SOLD Set Of 6 Porcelain Military Plates With Imperial Russian Soldiers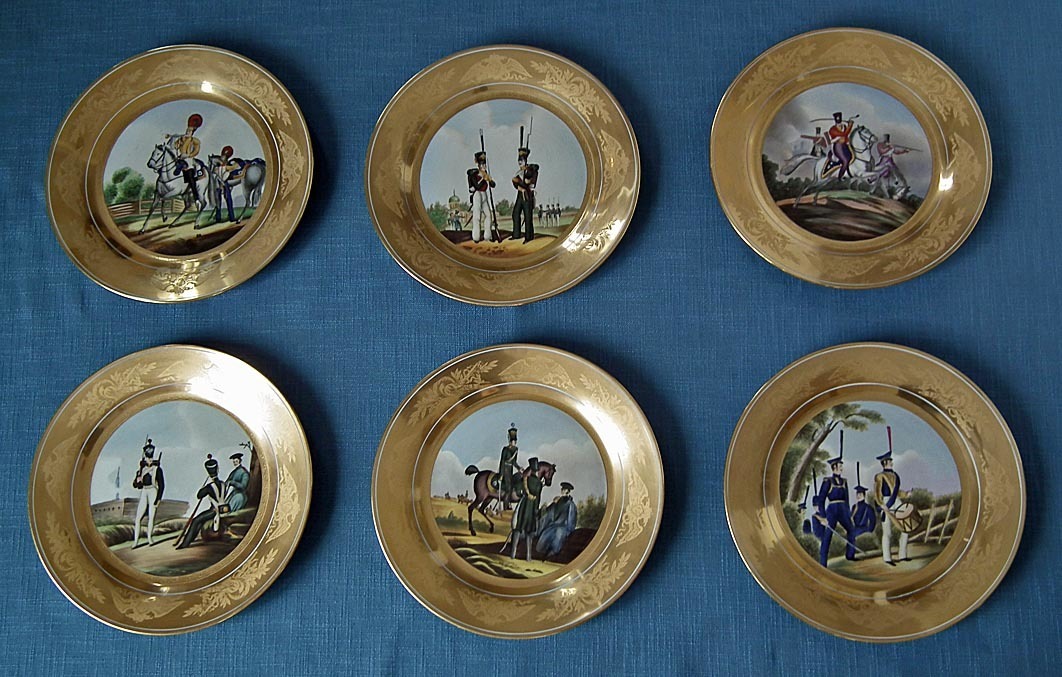 SOLD A set of superb quality six circular porcelain military plates, the center of the each of the plate is finely hand painted with imperial Russian soldiers of various regiments in their distinct uniforms the gold gilded border adorned with ciselé double headed eagles and military trophies, the reverse of each plate is hand inscribed in cobalt blue cypher mark and hand painted in gold with the numbers.

This plates are made in the style of the porcelain plates from a military service, made by Russian Imperial Porcelain Manufacture, St Petersburg period of Nicholas I, circa 1836. We do not know the date and the manufacture of this plates, possibly they were made in the 20th century on the pattern of 19th century plates.
The plate from the original 19th century Imperial Porcelain Manufacture military service was sold at Christie's Russian Art 6 June 2016, London, King Street for $184,398please see the link below.

http://www.christies.com/lotfinder/Lot/a-porcelain-military-plate-by-the-imperial-5999922-details.aspx

So, for the small amount of the money $3000 ($500 for the each of the plate) you can own a seat of 6 of this beautiful plates which are an very attractive decorative art objects for the house.
MEASUREMENTS: Diameter: 30.4 cm (11.97 inches).
CONDITION: in very good condition; no cracks, chips or restorations. The plates are in fact are lucking much better than on the pictures since they are heavy gold gilded and shiny there was very difficult to take the pictures and shows the beautiful fine details of the border ornaments.
Colors may differ slightly with items in pictures, due to lighting conditions, and color settings of different computers.