SOLD Scottish Dirk Sgian Dubh With Sterling Silver Mountings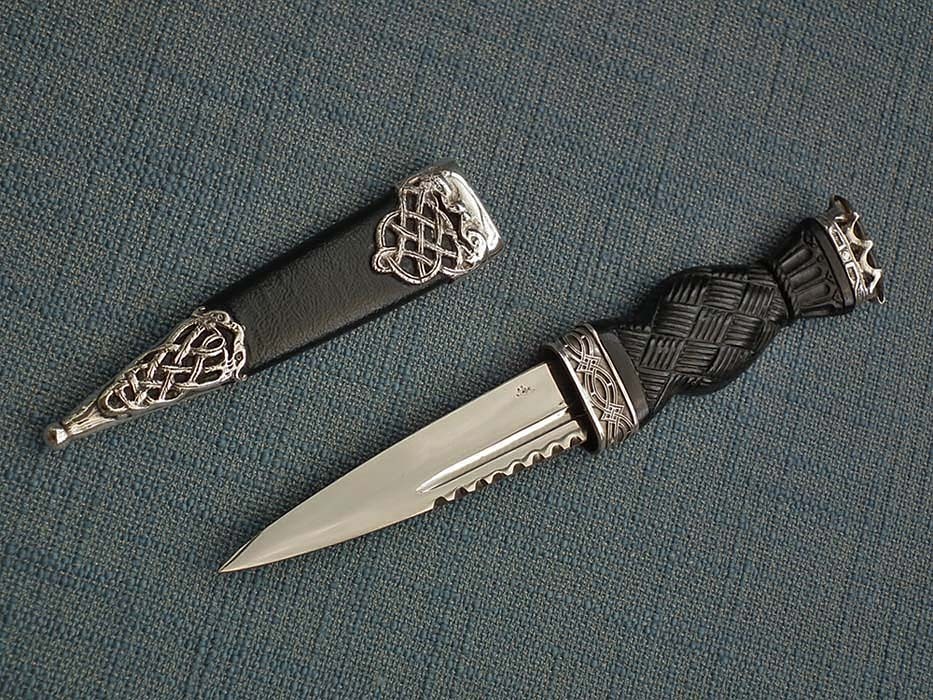 SOLD Fine vintage authentic Scottish made in Scotland Dirk Sgian Dubh with ornate sterling silver mountings made by well-known Scottish silversmith, Robert Allison from Edinburgh.
Black grip ornamented with traditional braided pattern and set with natural Smokey faceted Topaz
Each of the four solid Sterling silver mounts is decorated with Celtic knot and hallmarked with the prestigious Edinburgh Assay Office Hallmark. 1977
The stainless-steel blade with scalloped back cut on the both sides with a narrow fuller etched stainless steel.

The Gaelic sgian dubh meaning "black knife", where "black" may refer to the usual colour of the handle of the knife. It is also suggested that "black" means secret, or hidden, as in the word blackmail. This is based on the stories and theories surrounding the knife's origin and the meaning of "Dubh" in Gaelic.

MEASUREMENTS
Overall length with the scabbard: 19.3 cm (7.6 inches)
Overall length without the scabbard: 17.5 cm (6.89 inches)

CONDITION: In good used vintage condition.