SOLD Pre-Columbian Maya Mayan Green Stone Necklace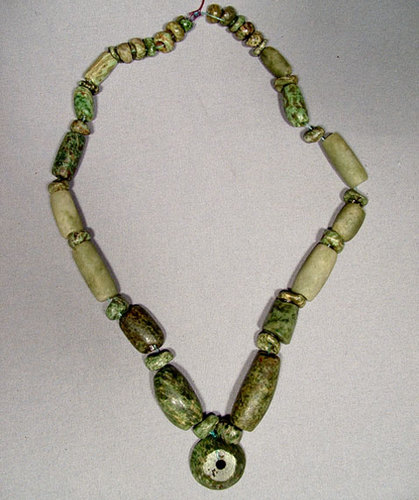 SOLD An authentic Pre-Columbian Mayan green stone necklace, Late Classic period, A.D.500-950, composed of 41 assorted stone beads of tubular ,round ,flat and barrel-shaped forms with a finely carved circular pendent at the centre. Length: in a straight single line; 23 inches (58 ½ cm) in the twofold 11 ½ inches (29cm).
This is a museum quality ancient object in perfect condition. In reference these types of stones are described as the Central American Jade.
References: "JADE FROM THE CENOTE OF SACRIFICE CHICHEN ITZA, YUCATAN" BY TATIANA PROSKOURIAKOFF, PEABODY MUSEUM OF ARCHAEOLOGY AND ETHNOLOGY. HARVARD UNIVERSITY CAMBRIDGE, MASSACHUSETTS, 1974"
also in "Maya" published by RIZZOLI, New York, page 554.
In the pre-Hispanic epoch necklaces made of green stone beads are one of the elements most commonly used by the Maya to reinforce the high rank of individual wearing them. Beads of this material were among the few articles and objects that achieved status of "money". All our artefacts are accompanied by a Certificate of Authenticity.
The Mayan Culture is considered to be one of the largest cultures in the American continent because of their knowledge in sciences, astrology and more. This civilization was born during the third millennium before Christ, living in a 320,000 square kilometres territory, taking in regions of Mexico, Guatemala, Honduras, Belize and part of El Salvador.
Through the centuries they were able to form a great civilization. This civilization had the power for over 2000 years; from the VI century B.C. to the XV century they lived and formed three periods: Preclasico (1500 BC-292 AD), Clasico or Old (292 - 900 AD), Postclasico or New Empire (900-1527 AD).