SOLD Large African Ethiopian Abyssinian Coptic Orthodox Processional Cross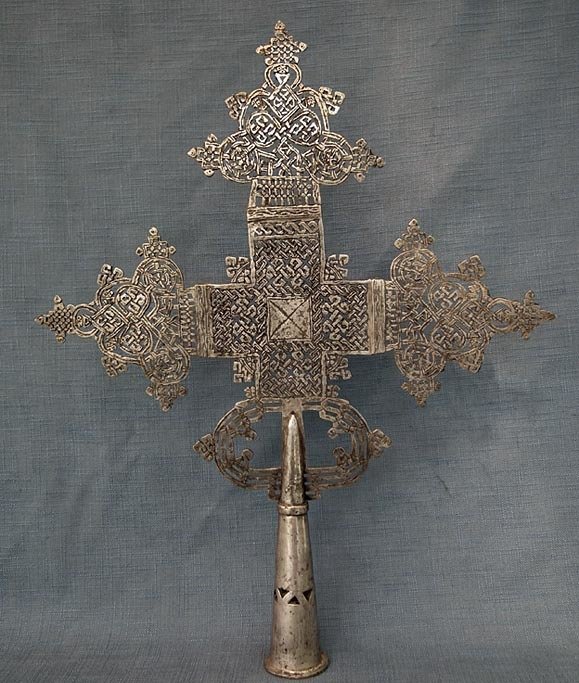 SOLD Extremely large (first half of the 20th century or earlier) Processional African Coptic Cross of Ethiopian - Abyssinian Orthodox Tewahedo Church made of silver plated brass. The cross is composed from two elements, a cast and a pierced cross decorated with copious elaborate geometric design in a lattice pattern and attached to a hollow conical stem in which a wooden staff can be inserted.

This pattern of Coptic crosses was made in Ethiopia for centuries and was continued to be made in the same pattern to the present day, so it is very difficult to determinate the age.
This particular example is showing its age and signs of usage, the surface is with nicks of wear and patina. The arms of the cross are slightly bent and the hollow conical stem is slightly bent too. The previous owner of the cross acquired the cross in Toronto antique show over 40 years ago, as a 19th century cross. However in our opinion the cross is made in the first half of the 20th century.

MEASUREMENTS: 58 cm x 46 cm (22.84 inches x 18.11 inches)

WEIGHT: 1543 grams (3 pounds and 6.43 ounces)