SOLD Jeweled and Enameled Gild Silver Dagger in Hungarian Transylvanian Manner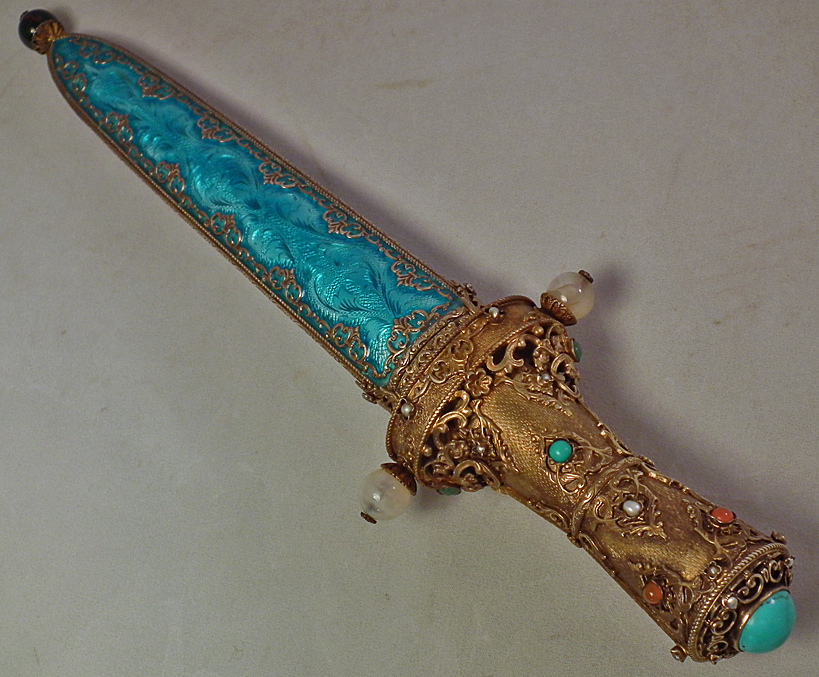 SOLD An exclusive Renaissance revival, jeweled and enameled, gild Silver dagger with vermeil mounts, decorated in Hungarian Transylvanian manner.

An elaborate gild solid silver handle in silver gilt, engraved and decorated with openwork scrolling appliqués, embellished with 22 natural stones, including agates, pearls, turquoise, aventurine, and 2 large agate stones forming the quillons, the pommel set with large Cabochon turquoise and 4 small pearls. The tapered double edged, silver plated, metal blade is still very sharp.
In its Solid gild silver scabbard with wooden insert enamelled in translucent blue Guilloché over a scrolling ground decorated en suite with vermeil.The end of the scabbard adorned with large round blood stone in gild silver setting.
There are no visible silver hallmarks, however, the hilt and the scabbard were acid tested in several spots for purity of the silver which is approximately 900-1000 grade.
Since there is no maker name or silver hallmarks we are not able to date this dagger.
CONDITION: In very good condition except that the blade is with scratches and wear.
MEASUREMENTS: Overall length of the knife, sheathed in the scabbard: 30.5 cm (12 in).
WEIGHT: 395g - 13.9332 Ounces.