SOLD Authentic Antique American Civil War Confederate Cavalry saber Wristbreaker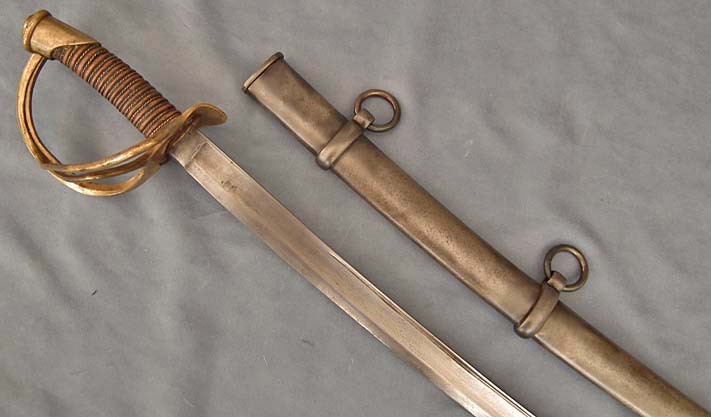 Authentic antique American Civil War Confederate cavalry saber in the classic unmarked version patterned after the U.S. model 1840 cavalry known as the "wristbreaker".
Since the sword does not have any makers markings, or government inspector's stamps( except for one small mark on the knuckle bow near the Pommel ,which would indicate that it was made prior to the civil war, or during the civil war, by one of the manufactures appointed by the US Government, which all US military swords of this pattern have, and also does not have any markings of the European sword makers who exported swords to the confederate, or Union dealers during the civil war, it is possible that perhaps the sword was made during the civil war by confederates.
Details: A hilt with a three bar brass guard with a brass pommel cap, wooden grip bound with roped brass wire. An extremely long slightly curved single edged flat back steel blade, cut with a broad full-length fuller and a slender fuller along the back-edge with in its original steel scabbard with two suspension rings.
CONDITION: the sword is in good condition considering its age.
MEASUREMENTS: Overall length with the scabbard: 110 cm (43 1/4 in). Length of the sword without the scabbard: 104.2 cm (41 in). Length of the blade: 90.2 cm (35 1/2 in).
REFERENCES:
1. Confederate Edged Weapons: Amazon.ca: William S., III Albaugh,Carl Puguese.
2. American Swords & Sword Makers by Richard H. Bezdek
3. American Swords from the Philip Medicus Collection: by Philip Medicus, Stuart C. Mowbray, Norm Flayderman: