SOLD Antique Persian Islamic Jug 12th century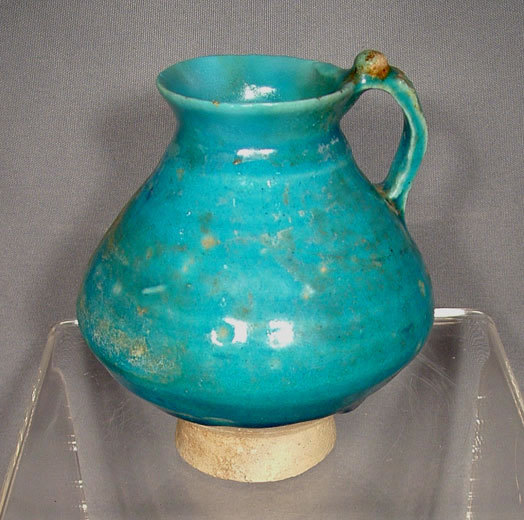 SOLD Antique Medieval Persian Kashan, 12th century AD (5 Century A.H.) fritware Islamic ceramic Jug with turquoise glaze of globular body, flaring trumpet mouth and tall pedestal foot all covered with stunning turquoise glaze except for the lower part of the body and the foot.
MEASUREMENTS: Height: 11.5 cm (4 1/2 inches). Diameter: 9cm (3 3/4 in).
CONDITION: no cracks, or repairs nice patina and good signs of age.
REFERENCES: 1) "Ceramics from Islamic Lands. (In association with The al-Sabah Collection Dar al-Athar al-Islamiyyah, Kuwait National Museum)" by Oliver Watson.
2) "ORIENTAL CERAMICS: THE WORLD'S GREAT COLLECTIONS: Vol. 4, Iran Bastan Museum, Teheran".
3) "A Selection from Dr. Abdul Latif Jassim Kanoo's Collection of Islamic Art"
4)" Islamic Art in the Kuwait National Museum: The Al-Sabahv Collection" by Marilyn Jenkins.
5) "A Survey of Persian Art from Prehistoric Times to the Present" by Arthur Upham Pope.
6)"Islamic ceramic" by James W.Allan.
7) "Art of The Estern World" by Géza Fehérvári