SOLD Antique Mariner Bronze Sculpture by Polish Artist Henryk Kossowski Jr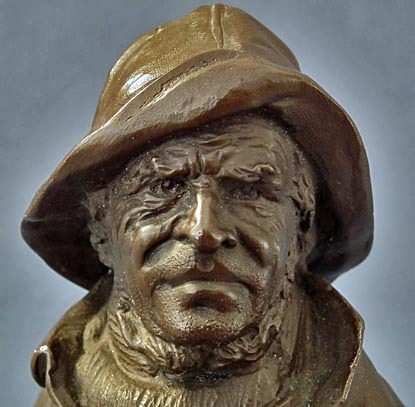 SOLD Authentic Art work of the Famous Polish Sculptor Henryk Kossowski Jr. (1855 - 1921) Antique circa 1900 Polish School bronze sculpture well modelled with fine details depicting a Mariner wearing a smock ( sou'wester) and sea boots, about to throw a lifebelt and holding a length of rope, on a naturalistic base, signed illegibly on the base near the left foot, "Kossowski," please see the pictures, mounted on marble stand with a presentation brass plaque fasten by four screws and inscribed in German."Seinem treuen Kameraden Albert Schultz Ruder Verein Preussen e.V. 10. 1. 1926" (His faithful companion Albert Schultz the Rowing Club "Prussia" e.V.)
The rowing club "Prussia" e.V is based in Berlin-Heiligensee directly on Niederneuendorfer Lake.
Hnryk Kossowski Jr. in the period of his artistic career in France modeled several sculptures depicting the Mariner in different poses and sizes which were multiple casts for retail during his life. His commercial sculptures are signed in various ways and often numbered.
This particular sculpture is a very rare example of his seaman model sculptures and I have not see another one like this, also since it is signed illegibly and not clearly visible makes it possible that this is the only single, or one of a few of the existing model of this particular sculpture, These sculptures were never cast in large numbers for commercial purpose.
CONDITION: In good original condition with nice dark greenish brown natural patina. Three chips on the rim of the marble base, otherwise in good condition.
MEASUREMENTS: Height, including the marble base: 40.6 cm (16 in) Height of the bronze figure without the marble base: 30.7 cm (12 1/8 in). Dimension of the Marble base in approximately; 16.2 x 13.3 cm x 10cm (6 3/8 in x 5 1/4 in x 4 in).
WEIGHT in approximately: 10 Kg (20 Pounds)
Kossowski Henry (1855-1921) Polish Sculptor, the student's of his father - Henry Kossowski (1815 - 1878) and Marcel Guyskiego (1830 - 1893). After graduating from the School of Fine Arts in Krakow, he studied in Paris student of famous sculpture Mathurin Moreau). He exhibited in Paris and Vienna, and also in the most important Polish cultural centers: Warsaw, Lwow and Krakow.