SOLD Antique Islamic Turkoman Dagger Bukhara with Silver Scabbard Turkmen sword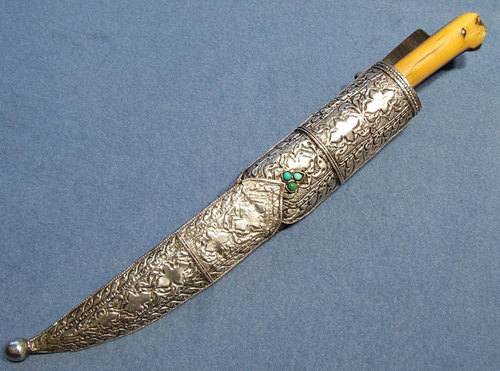 SOLD Antique 18th-19th century rare Islamic dagger Bichaq from the famous Central Asian city Bukhara, previously in Turkistan and today in Uzbekistan.
DETAILS: A slightly curved single – edged blade mounted with bone grips-scales retained by two rivets. The dagger comes with its silver scabbard repousee and chased in scrolling foliage and applied with settings of three rounded turquoises. Bukhara weapons are extremely rare compared to the Turkish, Indian, Persian, or Caucasian, this region was not heavily populated and the warrior aristocracy was a very small percentage of the population.
The Bukhara arms are hardly ever seen in museums including Russia.
REFERENCES: A similar dagger is in the famous Henri Moser collection of Islamic arms and armour in Charllotenfels, Switzerland and had been collected during his travel in the 19th century through central Asia." Orientalische Sammlung" Henri Moser, Charlottenfels, im Bernischen historischen Museum,
"Islamic Arms and Armour" edited by Robert Elgood,
"Some nineteenth-century arms from Bukhara" by Torben W. Flindt page 20-29.
MEASUREMENTS: The overall length in the scabbard is 31.8 cm (12.5 inches).