SOLD Antique Indo Persian Sword Islamic Salawar Yatagan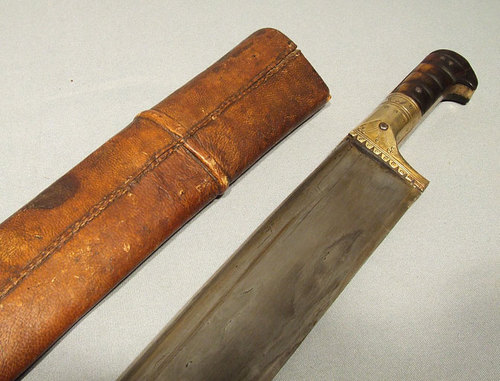 SOLD Huge Antique 19th century, Indo Persian, Islamic Sword "Khyber Knife" or "Salawar Yatagan". This is the national sword of the Afridis and many other tribes living in and near the Khyber Pass, Turkistan, Uzbekistan and Tajikistan.
Details: straight and heavy single-edged blade tapering gradually from the hilt to the point with wide rib at the back, the hilt is formed of two pieces of horn riveted to the tang mounted in brass decorated in traditional Central Asian manner, the guard- slight projection of the hilt. In its original wooden scabbard covered by brown leather fitted with a large brass chape decorated in repousse geometrical patterns.
CONDITION:The sword is in a very good condition except for the damaged chape otherwise in good condition.
MEASUREMENTS: overall length with the scabbard: 74, 5 cm (29 1/4 inches) the length without scabbard: 72.4 cm (28 1/2 inches) width of blade at widest point: 5.5 cm(2.25 inches)