SOLD Antique Imperial Russian Islamic Silver Caucasian Belt Caucasus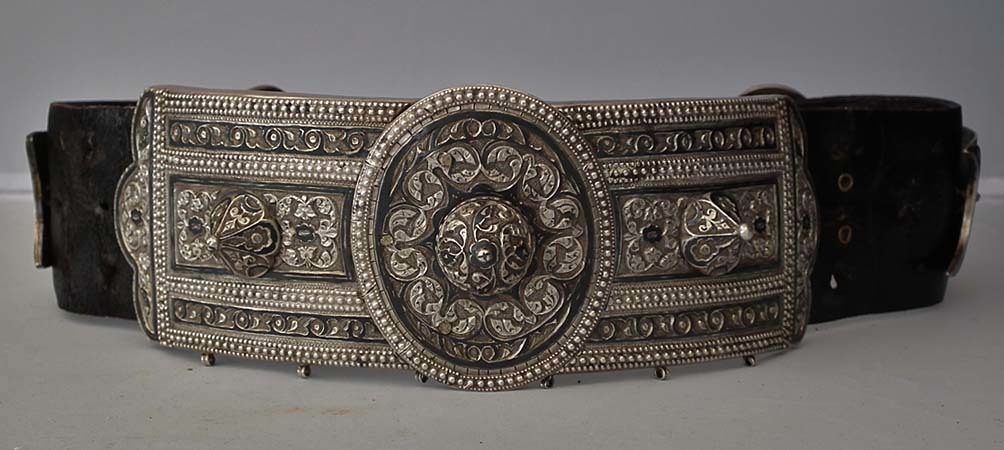 SOLD A superb quality Antique, Imperial Russian Islamic Caucasian belt Caucasus circa 1900 A.D. composed of a huge solid silver buckle, of curved form with cusped ends, formed of two rectangular panels and a central oval medallion, the hinge concealed on the reverse. The outer face is richly ornamented with finely hand chased, in low relief, bands of scrolling vine with engraved details on nielloed ground and granulated work, the center adorned with domed central boss and two conical shape bosses on the two sides.
The wide leather strap enriched with three solid silver panels with the ends shaped in crescent moon and finely hand chased, in low relief, of floral patterns with niello and set with eight pointed stars enclosed with eight large Iranian silver 500 dinar coins from the reign of the Mozaffar ad-Din Shah Qajar, 1896-1907, all dated 1320 AH (1902 A.D.)
The buckle is marked on the inner face with Imperial Russian assay office "84" zolotnics, and the assay master's mark initials in Russian Cyrillic alphabet.
MEASUREMENTS:
Overall length, (including the curve faces of the buckle): 80 cm (31 1/2 in).
Height of the central oval medallion: 7.6 cm (3 in).
Width of the leather belt: 6 cm (2 3/8 in).
WEIGHT: 757 grams (26.7024 ounce).
CONDITION: In good condition considering its age, leather is still flexible, showing the age and usage.
Since the Imperial Russian assay office "84" zolotnics mark is from late 19th century and the silver coins are in mint uncirculated condition, the belt was made circa 1320 AH (1902 A.D.).
Those types of the silver belts were affordable only to the very wealthy Caucasian aristocracy.
A similar Islamic Caucasian belt was sold by Christie's, London on 27 April, 2012. 'Islamic & Indian Works of Art & Textiles' Lot 875, for £2,500 ($4,040).
Please see the link below:
http://www.christies.com/lotfinder/lot/a-large-ottoman-silver-mounted-belt-signed-muhammad-5553065-details.aspx