SOLD Antique French Napoleonic Sword Sabre for Napoleon Polish Lancers Pattern AN XI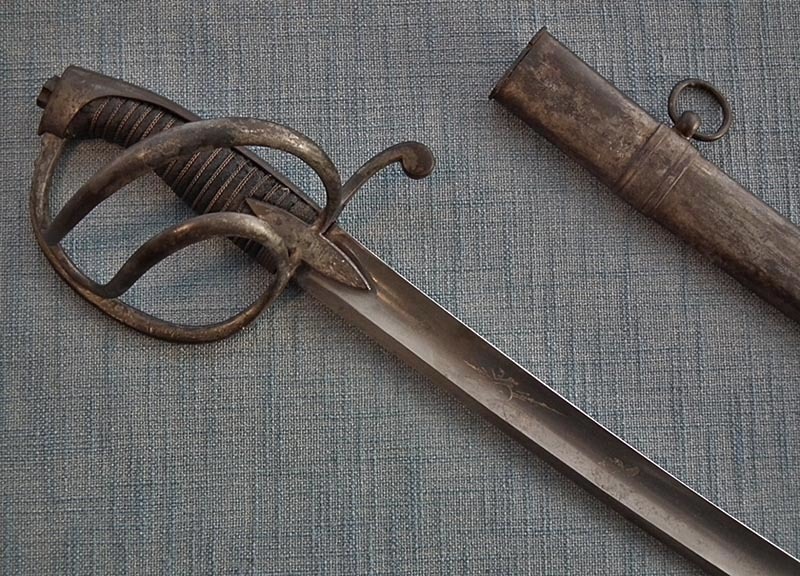 SOLD A rare antique, early 19th century, 1807- 1808, French First Empire Period, Napoleonic Polish lancers officer sword (Sabre de Lancier Polonais 1er empire), patterned on the base of the French light cavalry sabre regulation Model AN XI.


Details: Three – bar steel hilt with downcurving qullion and elliptical langets, beveled steel back-strap with pronounced almond shaped pommel retaining its original black leather covered ribbed wooden grip bound with finely roped copper wire.


A slightly curved single edged blade cut with a broad, full-length fuller and engraved with gold inlaid martial trophies and foliage, with its original steel scabbard affix with two bands with loops for suspension. Originally the hilt and the scabbard of this sword ware plated by silver color white metal, the remains of the tarnish silvering are still visible in some places on the hilt and scabbard please see the pictures.

This model of the sword was especially designed for Polish lancer in the service of the first Empire Napoleonic French army. which looks, similar to the light cavalry sabre, AN XI pattern, with brass hilt.
There were two versions of the Polish Lancers sword, a variant for officers and a trooper's version
This is an officer version of this pattern with engraved blade and plated hilt and scabbard.

Due to the small number of the Polish lancers in the 1st empire Army compared to the entire 1st Empire cavalry these swords are extremely rare not only on the antiquarian market where they, from time to time, over the years appeared, but also unique examples exist in museum collections.

REFERENCES:
Sotheby's Monaco, Lundi 23 Avril 1990. Belles Armes Anciennes, Casques et Objets Militaires (famous collection of Napoleonic swords from Dr. Raymond Wargnier collections): Lot No. 993
Price FF 16000-18000 ($2800- $3150) over 28 years ago.

The buyer will be provided with a copy of the pages from the mentioned Sotheby's catalogue together with a certificate of authenticity.

CONDITION: Age and usage is showing. In good condition considering its age to be over 200 years old, the silvering on the hilt, and the scabbard is partly worn out.

MEASUREMENTS:

The overall length in the scabbard is: 101 cm (39.76 inches)
Overall length without the scabbard: 99.5 cm (39.17 inches)

Length of the blade: 85.5 cm (33.66 inches)