SOLD Antique Chinese Silk Robe Qing Dynasty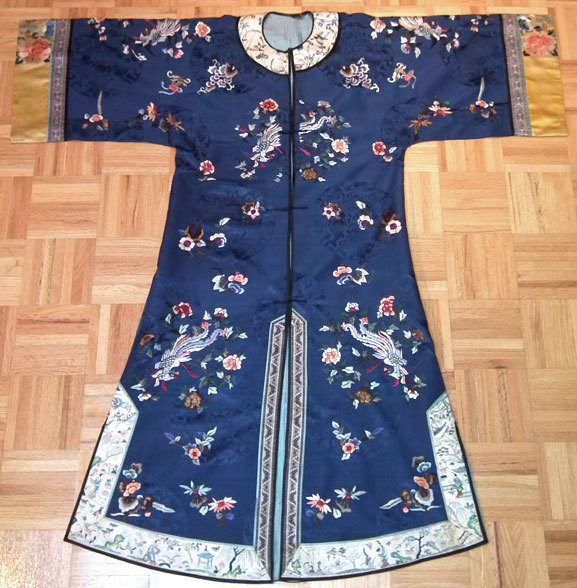 SOLD Antique 19th century Chinese Qing Dynasty woman's robe. A dark blue satin Silk finely woven in patterned medallions with precious Buddhist and Taoist emblems and auspicious motifs as two gold fish bordered by bats and Peony's. Embroidered in coloured floss satin silk with phoenix birds and flowers, sleeves with yellow cuffs, panels heavily embroidered with large Peony's. Bordered with finely embroidered bands depicting a landscape with figures and Chinese pagodas pavilions in landscape. The flowers are emblematic of spring and summer, and the peonies also signify wealth and rank indicating that this Robe belonged to a lady of the court. Lined in light blue silk secured at the front with its original four fabric buttons. REFERENCES: (1)"Silks for Thrones and Altars" by Myrna Myers, page 66 and 67. (2) "In The Presence Of The Dragon Throne" by John E. Vollmer (3) "When Silk Was Gold" by James C.Y Watt & Anne Wardwell.
Due to the fact that the market is flooded by reproductions of Chinese robes and older theatrical robes which for inexperienced collectors look the same, we would like to inform our clients that this is a 100% authentic antique Chinese Qing Dynasty Robe and not a reproduction, and is accompanied by a Certificate of Authenticity.
DIMENSIONS: Approximately when placed flat: Length: 131 cm (51 1/2 in), Width (distance from cuff-to-cuff): 130 cm (51. 1/8 in).
CONDITION: The robe in general is in good condition considering its age with some slight age wear, particularly some tears on the lining, there are some minor stains / watermarks on the outer and inner area of the robe, there are no holes or applied patches. This Robe comes from an old Canadian collection of Oriental Art, including many Chinese robe's and related items which we are in the process of photographing and placing for sale for the first time.