SOLD Antique 19th century Persian Qajar Islamic Lacquered Papier Mache Casket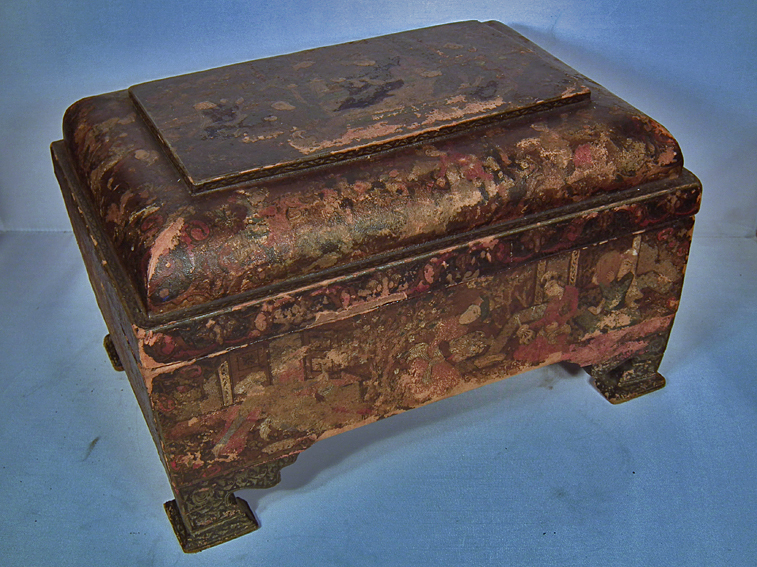 SOLD Authentic antique,19th century, large,Persian Qajar Dynasty, Islamic polychrome lacquered Papier Mache casket of rectangular form resting on four feet, with separate cover. The raised rectangular top finely hand painted depicting an allegorical Royal courtly scene. The shoulders decorated with various scenes of equestrian hunting, the sides of the casket with further similar Royal courtly scenes. The bottom painted with a classical Persian medallion.
This type of lacquered Qajar, Papier Mache casket, can be seen on display in the world class museums of Islamic art, and sometimes they appear for sale in the most important auction houses.
To see related Persian Papier Mache caskets please view the links below.
CONDITION: In its original condition as had been found, showing the age and heavy usage. Free of repairs or restoration, worn areas with losses of paint decoration and paint flecks.
DIMENSIONS: Length: 31.5 cm (12 3/8 in).
Width: 22.3 cm (8 3/4 in).
Height: 19.7 cm (7 3/4 in).
http://www.christies.com/lotfinder/lot/a-qajar-pol...
http://www.christies.com/lotfinder/lot/a-fine-qaja...
http://www.christies.com/lotfinder/lot/a-qajar-pap...
Due to the fact that the market is flooded by reproductions of the Islamic and Indo Persian antiques, which for inexperienced collectors look the same as the authentic objects, we would like to inform our clients that this is a 100% authentic antique item, and is accompanied by a Certificate of Authenticity.