SOLD Antique 19th century Chinese Qing Dynasty Carved Mother-Of-Pearl Shell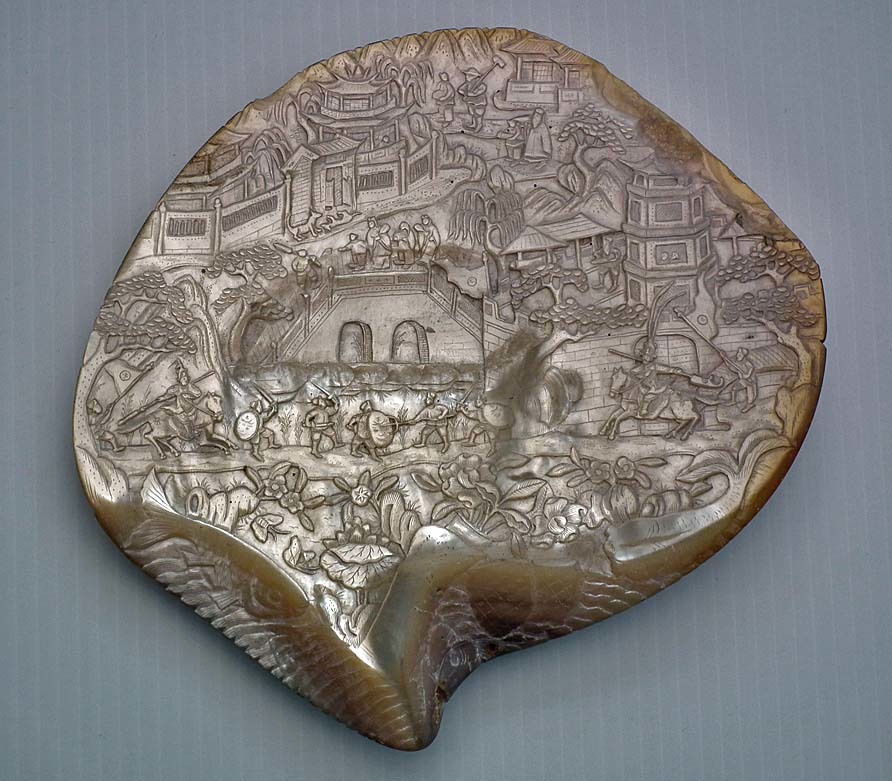 SOLD Superb quality Antique 19th century Chinese Qing Dynasty carved mother-of-pearl scallop shell, finely carved in low relief depicting a town scene by the river with a bridge and mountainous landscapes with many figures in Chinese traditional clothing engaged in everyday activities amongst the houses and pavilions.
The lower part depicts a battle scene near the wall and the gates of the city involving Chinese soldiers in full battle dress being of infantry soldiers and two armored horsemen's. The bottom is carved with floral sprays bordered by fish and a whale in waves of water.
The work is of the finest quality which can be seen on the carved mother-of-pearl shells, the warriors are carved with superb details and showing an exact example of armor and weapons that have been used by Chinese Qing Dynasty army.

These shells often come with wooden stands, in this offering the stand is missing.

MEASUREMENTS: Width 21.6 cm (8 1/2 in). Height 20.7 cm (8 1/8 in.).

CONDITION: Edges are chipped.