SOLD Antique 19th century American Gold Enamel Miniature Eagle Head Sword Pin Broach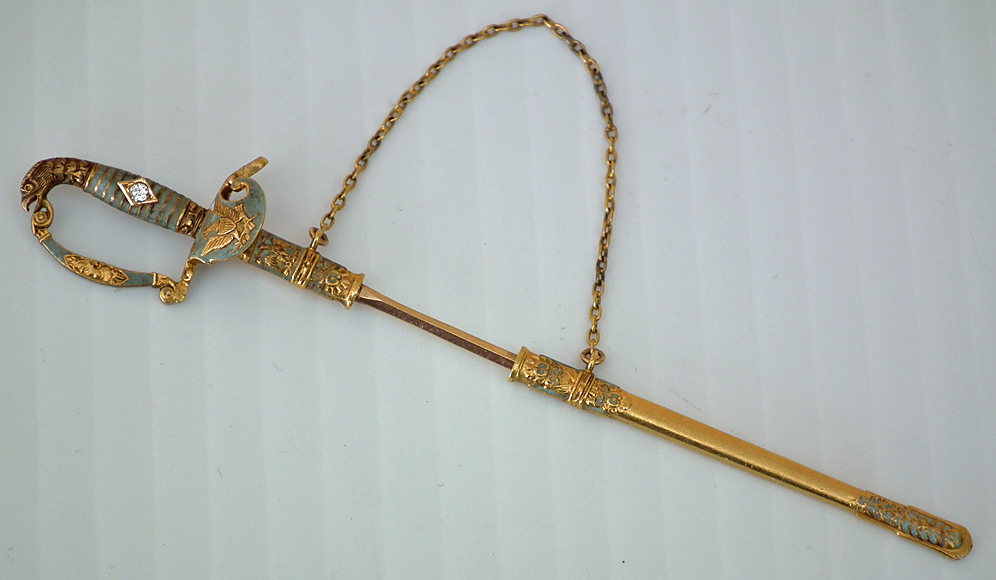 SOLD Antique, 19th century (Civil War Era) American solid 14K gold, enamel and Diamond, "Eagle Head Sword," Jabot pin. The pin is an actual miniature of the U.S. Infantry Officer's Eaglehead Sword (Regulation of 1821), pattern Crafted in solid 15 carat gold.
A solid gold hilt, cast and finely hand chased in low relief comprising an eagle head pommel, a down turned shell guard bearing an American Military bald eagle with federal shield on the chest, it holds a bundle of arrows in its left talon and an olive branch in its right talon, the celadon enameled ground, scrolling knuckle guard is decorated with classical armour ribbed grip, set on the center with old European-cut diamond and celadon enamel. A solid gold straight blade with integral locket decorated with eagle and scrolls on the enameled ground, solid gold scabbard with suspension mounts and chape adorned with foliage and enamel. Both pieces, the sword and the scabbard are attached to each other by a length of chain.
This miniature sword is a rare example of 19th century American goldsmith artwork.


CONDITION: Excellent! And there are no repairs or restorations at all.

METAL CONTENT: 14K Gold

HALLMARKED: No. Gold has been acid tested.

GEMSTONE: Natural Diamond.

MEASUREMENTS: Overall length of the pin from top of hilt to bottom of sheath is 10 cm (3.937 inches).

WEIGHT: 9 grams