SOLD Antique 18th century Russian Icon The Three Handed Mother of God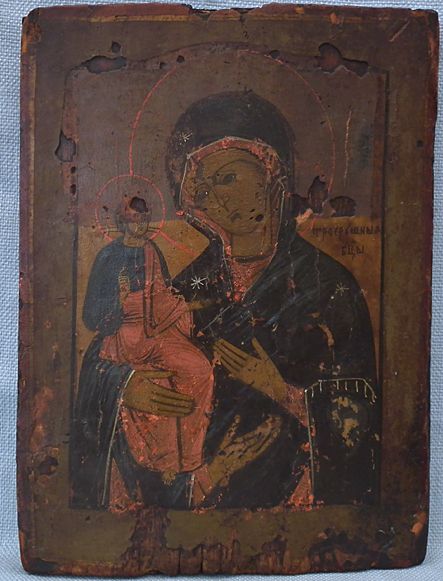 SOLD Authentic Antique, 18th century, Russian icon, The Three Handed Mother of God, " Божья Матерь троеручница". The Icon is traditionally finely hand painted in tempera on a gessoed wood panel with two inserted slats on the top and bottom.
The virgin, holding the Divine Child, is depicted waist-length, with the third hand, added, by St.John of Damascus, who, while praying at the icon of the Mother of God, had his cut off hand healed. The healed hand is presented on the icon as the third hand of the Mother of God. On the right side the icon is inscribed in Cyrillic: "Троеручница."
The history of the Icon of the Three-handed Theotokos is closely connected with the life of John of Damascus, who put a lot of effort into defending icons during the time of the iconoclasm. In order to get rid of such a dangerous defender he was belied, and as a punishment for alleged treason, he was subjected to the cutting off of his right hand. For the whole night John of Damascus fervently prayed before the icon of the Theotokos for the healing of his hand, with which, he had ardently defended holy icons in his letters. His plea was heard and his hand healed. As a token of gratitude he attached a silver right hand to the icon of the Theotokos, before which, he had been praying. The icon is known for its miraculous healings.
CONDITION: The icon is in its original condition, no repairs or restorations, with nice old patina, some flakes in gesso and paint, and old chips in the wood.
MEASUREMENTS: 31.8 cm x 23 cm (12 1/2 in x 9 in).