SOLD Antique 18th century American Colonial Silver Mounted Walking Stick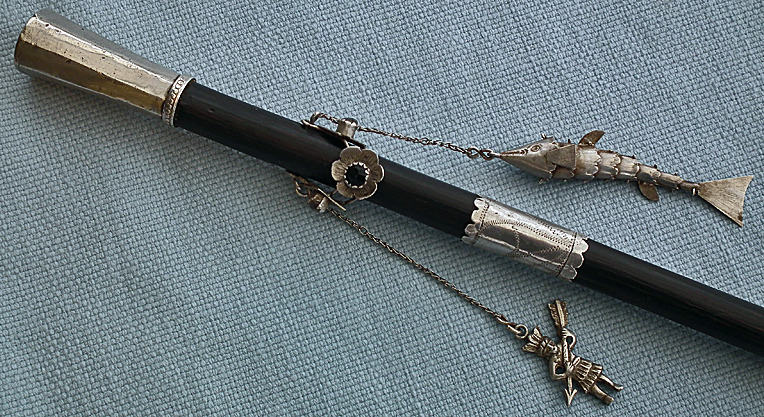 SOLD Antique 18th century American Colonial, silver mounted, gentleman's walking stick, having a tapered silver handled of octagonal section, the top engraved with crucifix and monograms, turned ebony shaft adorned with movable silver loop, set with jewels, hand-braided hanging chains. On the end of one chain is a cast silver charm in the form of a standing Indian holding an arrow; a silver fish composed of nine flexible elements on the other. The lower part adorned with six silver bands engraved with scrolling foliage and enclosed by a ferrule fitted with a bulbous finial ring.
The engravings on silver mounting including crucifix on the handle and the scrolling foliage on the silver bands are engraved in typical Native American technique. There are no maker's marks at all.
CONDITION: Silver displays general surface scratches, dents, marks, wear and tarnishing, commensurate with the age and use.
MEASUREMENTS: The overall length is: 82 cm (32 1/4 in).