SOLD Antique 17th Century Indian Temple Swords Nayar Malabar Southern India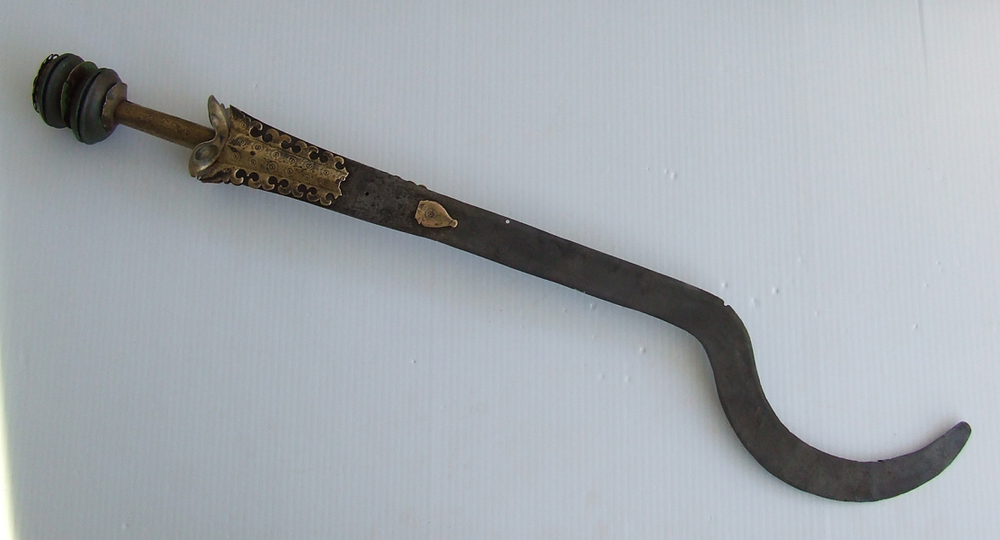 SOLD Very rare antique,17th century swords, - known as Ceremonial Temple Swords - are associated with the Nayar or Nair people of Malabar of Southern India, most probably from Tanjore. These swords were used for religious ceremonies. Hand forged, very tiny flexible double-edged flat blade, with sickle-shaped end, displays complex forging, pierced on the edge with two holes for suspension, and small jingle bells. The rear portion reinforced by a pair of long brass reinforcement panels cut with cusped edges and issuant from the base of the brass/bronze hilt, with cylindrical, grip, lobed guard and pommel formed of four saucer shaped brass/bronze discs, enclosing clappers to generate ringing sound.

REFERENCES: A very similar sword from the collection of the Metropolitan Museum of Art, New York, is published in the book1.Hindu Arms and Ritual by Robert Elgood. Page 80.
Please see the last picture attached to the listing.

1.Hindu Arms and Ritual by Robert Elgood.
2.The Indian Sword by Philip S. Rawson.
3. Indian arms and armour by G.N. Pant. Volume II.
The buyer will be provided with a copy of the pages from the mentioned references, together with a certificate of authenticity.

MEASUREMENTS:
Overall length: 81 cm (31.89 inches).

CONDITION: Showing the age and heavy usage, blade, slightly pitted, Jingle bells on the blade are missing, the reinforcement panels damaged.