SOLD Antique 16th century Renaissance Parade Boar - Spear Head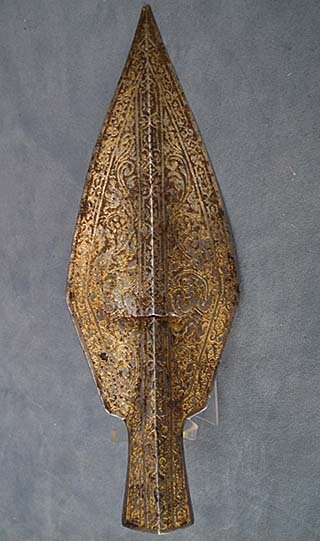 SOLD Extremely Rare, superb quality, Antique 16th century, circa 1550.AD. Renaissance time period German (most likely Augsburg) parade Boar-Spear head, with hand forged broad leaf-shaped steel blade of hallow flattened diamond section, on tapering socket of octagonal section. Decorated over its entire surface with etched elaborate foliate scrolls, all on a gold gild ground.
MEASUREMENTS: Overall length: 28.2 cm (11 1/8 in).
WEIGHT: 314 Grams = 0.69225 Pounds (lb).
CONDITION: Some pitting and a minor crack in the middle section.
This type of ceremonial Boar-Spear was carried by the European monarch body guards alone, with halberd and partisan. A body of men, uniformly armed with such weapons would have been an impressive sight, indicating the wealth and importance of the monarch.
REFERENCES: Very few of these exceptional height quality and handsome parade Boar-Spears survived to the present day, however, some of them are preserved in the most important world museums, such as, Victoria and Albert, Canadian Museum of Civilization, Art Institute of Chicago.
Historisches Museum Dresden, Published in the book Handbuch der Waffenkunde by W. Boeheim W. Akademische Druck - und Verlagsanstalt, 1966 Page: 329. Fig.389. Cleveland Museum of Art Published in the book Arms & Armor: The Cleveland Museum of Art by S. N. Fliegel Page: 147. No 113.
Tower of London and Victoria And Albert Museum, published in the book HUNTING WEAPONS, by H.Blackmore. Page: 162 No 49, 51.
A very alike Boar-Spear head is published in the Catalog of Galerie Fisher in Switzerland 19, Jun 1967. Page: 25. No10.
This unique object will be a great addition to a museum or a private collection of important European arms.
The buyer will be provided with a copy of the pages from the mentioned references, together, with a certificate of authenticity.
LINKS:
http://collections.vam.ac.uk/item/O98181/boar-spear-unknown/
http://www.civilization.ca/cmc/exhibitions/milhist/austria/aus09eng.shtml

http://www.artic.edu/aic/collections/artwork/106515?search_no=4&index=33
http://www.bridgemanart.com/asset/490885/German-School-16th-century/Parade-spear-Augsburg-c.1570-1600-steel-brass?search_context={%22url%22%3A%22\%2Fsearch\%2Fcollection\%2FCLEVELAND-MUSEUM-OF-ART\%2F2207%3Fpage_num%3D2%22%2C%22num_results%22%3A1775%2C%22search_type%22%3A%22supplier_assets%22%2C%22supplier_id%22%3A%222207%22%2C