SOLD Rare Antique Turkish Ottoman or Polish Hungarian Mace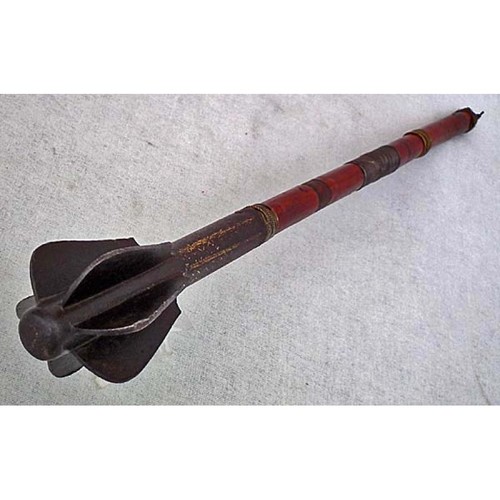 SOLD Rare Antique Turkish Ottoman or Polish Hungarian Mace Buzdygan Buzogányok 17th century Rare antique 17th century Turkish Ottoman or Eastern European (Polish – Hungarian) horseman combat mace Buzdygan - Buzogányok with tubular iron head retained by a domed cap and fitted with six shaped flanges with an integral gold inlaid steel socket, fruitwood haft retaining its original silver and brass wire bands.

REFERENCES:
1) Christie's catalogue: "Twenty rooms: The private collection of the late Mrs. Elias-Vaes". Sale 2857. Amsterdam; 27 April 2010 - 29 April 2010. Lot 341.
Title: A HORSEMAN'S MACE, TURKISH OR EAST EUROPEAN 17TH CENTURY. Sold for €2,750
2) Thomas Del Mar Antique Arms and Armour catalogue: London ; 30th June 2010 Lot 106.
Title: TURKISH SILVER MOUNTED MACE 17TH/18TH CENTURY. Sold for 2640 GBP
The buyer will be provided with a copy of the pages from the mentioned catalogues together with a certificate of authenticity.
The Buzdygan - maces, or flanged (winged) maces, where the head of the mace is divided into the "feathers - flanges" (usually six or eight). These were used as battle weapons bared by a colonel as a symbol of rank, and a sign of the officer's authority, as the commander of the Turkish, Polish, Hungarians, Russians, and Ukrainians Cossacks, during the 16th-18th century, of many different varieties and styles. Maces used in Poland were mostly of Eastern origin. Many goods were imported from Ottoman Empire and Persia but also from the Hungary and Transylvania (both under Ottoman influences). In a turn of 17th and 18th century some Polish manufactures (especially so-called Lwow Manufacture run by Armenians, the refugees from the Persian and Ottoman empire) started to made some decorative maces using Eastern Islamic patterns.
MEASUREMENTS: Overall length: 55.5 cm (21 7/8 in). Height of the iron head including socket: 17.9 cm (7 in). Length of the flanges approximately: 8 cm (3 1/8 in).
CONDITION: In its original condition showing the age and usage with a dark patina, the gold inlay is partly worn, brass wire broken in several places and fastened by glue.
ALL ITEMS ARE GUARANTEED TO BE AUTHENTIC ANTIQUES, AND NOT REPRODUCTIONS.
ALL OUR ARTIFACTS ARE ACCOMPANIED BY A CERTIFICATE OF AUTHENTICITY.
WE SHIP INTERNATIONALLY