SOLD Antique 17th century Polish Gilt Brass Sword Belt Pancerzowy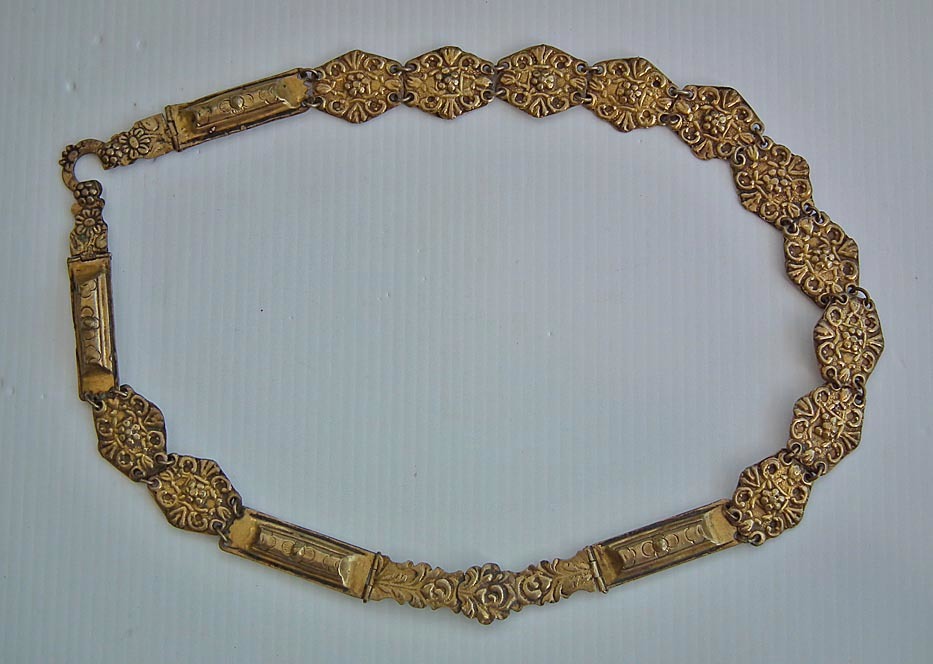 SOLD Rare Antique 17th century Polish gold gilt brass pancerzowy sword belt, formed of four rectangular narrow panels and twelve hexagonal panels, each made of two separate segments joined by flower shaped head rivets, and decorated in repousse baroque foliage ornament set with a small crescent hanger for sword/dagger suspension. The hinged buckle is formed of two repousse segments, with one fitted with a loop closure, and the other fitted with a hook on its back.
REFERENCES:
1. Similar examples of these rare belts are described as 17th century Polish belts and are in the collection of the Museum national in Krakow published in the book Pasy metalowe Polskie i obce w zbiorach Muzeum Narodowego w Krakowie By Kazimierz Buczkowski, Bronislawa Marekowska .
2. Encyklopedia staropolska by Zygmunt Gloger (page 270).
3. Similar belts have been presented at the exhibition Pasja Zbjerania Kolekcja Ryszarda Z.Janiaka (The Royal Castle) in Warsaw 2007 and are in the catalogue A Passion for Collecting - The Collection of Ryszard Z.Janiak.
4. On the Portrait of Prince Wladysław, later King Władysław IV, painted by a Flemish painter from P.P. Rubens's circle, 1600–1650. Prince Wladysław is depicted wearing a Polish costume with a sword suspended from a luxury pancerzowy belt.
Please see the pictures attached to the listing and as well in the links. The buyer will be provided with copies of the page from the mentioned reference along with a certificate of authenticity.
http://www.konkursmoda.wilanow-palac.pl/index.php?header_id=4&menu_id=117&lang=PL
CONDITION: The belt is in good condition and shows age and usage.
MEASUREMENTS
Overall length: 101.6 cm (40 in).