SOLD Antique 16th-17th century Turkish Ottoman Islamic wicker Shield Kalkan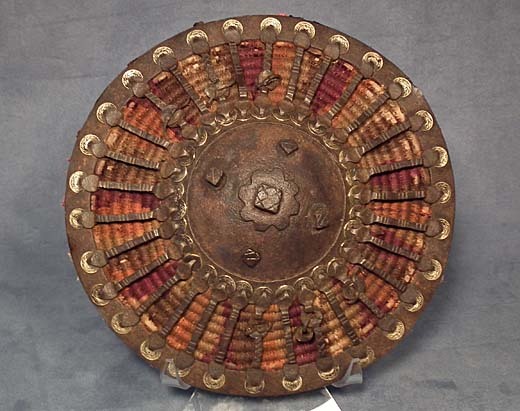 SOLD
Rare Antique 16th-17th century Turkish Ottoman Islamic steel-mounted Islamic wicker Shield Kalkan of circular domed form, composed of spiral cane wrapped with colored cotton threads.Steel domed center boss adorned with rosette and five square finials connected to the outer ring by 30 reinforcing radial steel bars decorated with notch pattern, and brass washers imitating ottoman coins. The interior has a central wooden core, six iron rings for suspension and leather straps.
This type of wicker Kalkan shield became emblematic of the Golden Age of the Ottoman Empire used by Turkish soldiery during the 16th- 17th century, some of these types of Islamic wicker shields were made for high ranking officers as large luxurious parade shields, decorated with gold and embellished with precious stones. This particular one is a typical smaller combat shield, therefore, a more maneuverable form of shield designed to protect the Ottoman warrior from the arrows, and the sword. The flexibility of the wicker absorbed the power of the arrow and the reinforced steel mounting absorbed the impact of the sword.
Diameter: 28 cm (11 in).
CONDITION: In good condition considering its age, some minor wear to the thread.
REFERENCES:
(1) Sotheby's Arts of Islamic World London 12 October 2000. Lot167.
(2) Bonhams. The Jacques Desenfans Collection. 10 April 2008.