Rare AntiqueSOLD Chinese 17th - 19th century Mother-of-Pearl Inlaid Wood Apostle Cross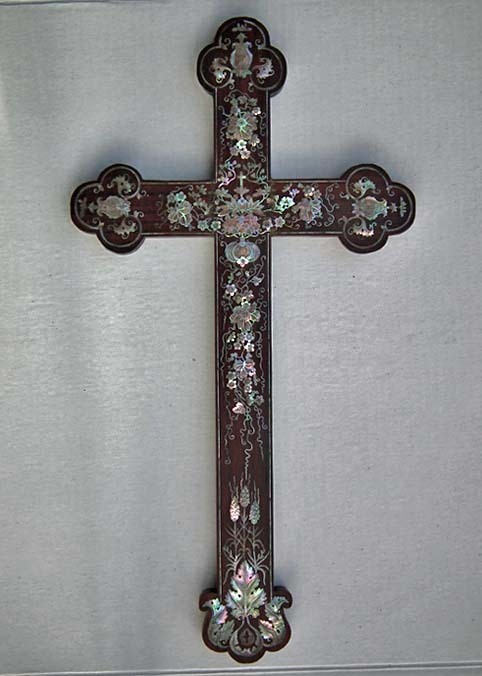 SOLD A very Rare Antique, Chinese, 17th - early 19th century, Mother-of-Pearl Inlaid Wood Apostle Cross; possibly Macau, made of hard wood (probably rosewood), inlaid with incised and finely engraved mother-of-pearl to depict fruiting vines, lotus, small flowers and foliage, the ends inlaid with foliate scrolls and centred by a lotus flower.

A related, Chinese, mother-of-pearl inlaid crucifix dating to the 17th-18th century was sold at Christie's London, 11 May 2015, lot 14, in European Courts Encounter Japan.
Estimate: £8,000 - £12,000 ($12,368 - $18,552).

Price Realized: £27,500 ($42,378).
CONDITION: In good condition and shape considering its age, with signs of age and usage, absence of some tiny pieces of mother - of - pearl inlay on the top part of the cross, gaps on the connections of the two parts on the middle of the cross with signs of old previous gluing.
MEASUREMENTS: Height: 48 cm (18.9 inches). Width: 25.5 cm (10.04 inches).