Antique Korean Silver Mounted Knife Dagger Eujangdo Joseon Dynasty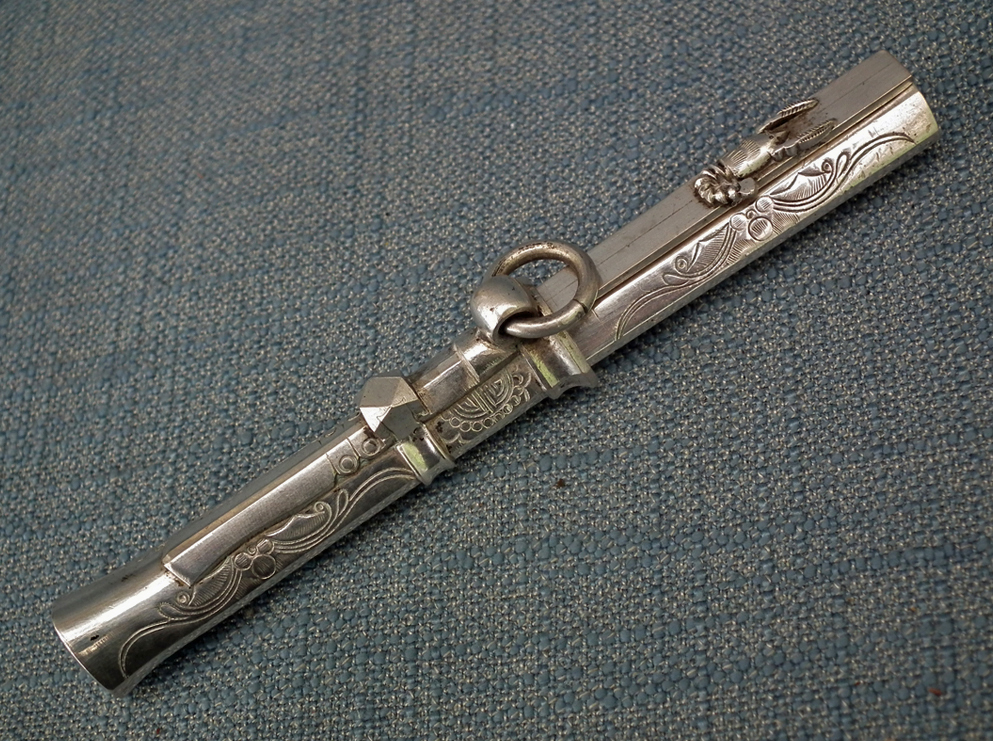 A rare antique 19th century, Korean Joseon dynasty, Korean noble lady's remarkably high-quality silver mounted knife-dagger, Eujangdo or Jangdo EunJangDo (Eun = Silver & JangDo = Dagger/Knife)

DETAILS:
The ornate octagonal scabbard and the hilt and the hair tool are made of high purity, solid silver, very sharp sturdy blade is made of hand forged steel slightly shows signs of a forge folded construction pattern.
The exterior is the scabbard skillfully engraved with deer and plum blossoms foliage, the hilt with flying crane, pine tree clouds and bamboo pattern. The reverse side of the scabbard applied with suspension mounts in the form of the Buddhist wisdom Sword with hanging ring. The sides finely engraved with Bats and double happiness and longevity character Shou. Solid silver Hair Dressing Tool similar in form to Japanese (Kogai), applied with finely sculptured small lobster.

Most of the Eunjangdo knifes scabbard and hilts are made of light sheet silver, this knife scabbard and hilt are made of very thick silver.

Korean upper classes women were carrying these knives insides of their Hanbok (traditional clothing) to protect themselves or to commit suicide in case their honor was in danger in the event of sexual assault.

It is believed that the tradition started after the Japanese invasions in the sixteenth century when women were in danger from the foreign soldiers.

Antique Korean edged weapons are extremely rare, presumably because of the culture's own disdain for weapons combined with a large-scale disarmament under Japanese occupation. During the Japanese Occupation almost all swords and knifes were confiscated and destroyed. After the Occupation (1945) strict laws were enacted against ownership of edged weapons, this means that antique examples of Korean swords and knives are rare. For Korea the period between 1865 and 1960 has been a very violent one, during which many lives were lost and also many artefacts & antiques were lost and destroyed.


MEASUREMENTS:
Overall length: 14.9 cm (5.87 inches)
Overall length of the knife without the scabbard: 14.4 cm (5.67 inches)
Length of the blade: 7.7 cm (3.03 inches)
Length of the hair tool: 13.9 cm (5.47 inches)

Total weight: 87.8 grams (3.1 ounces)

CONDITION: In good condition considering its age. Please notice that the pictures in the listing are part of the description of the condition of the object.