SOLD Antique18th century Balkan Greece Ottoman Period Enameled Belt Buckle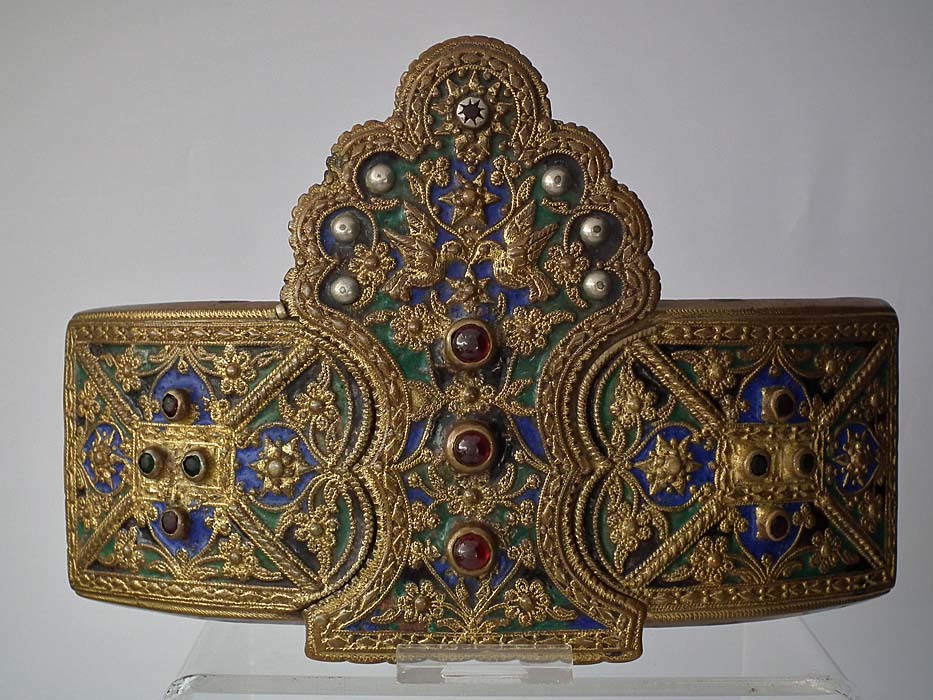 SOLD Large Antique,18th century, Balkan – Greece , Ottoman period, gem set and enameled gilt brass belt buckle of the diadem form, composed of two detachable elements that slot together, the rectangular sides, flanking a central lobed section, decorated in gilt and polychrome enamels with floral and geometrical decoration, an insignia on the central section set with glass paste stones.
This type of the buckle known as a corona was given by a future groom to mark the couple's engagement.
REFERENCES: For a very similar example, see:
1. Millner Manolatos, exhibition Catalogue, February 2006, no.60.
2. Elektra Georgoula: The Greeks: Art Treasures from the Benaki Museum, Athens, Calouste Gulbenkian Foundation, 2007
3. Bonhams The Jacques Desenfans Collection London, New Bond Street
10 Apr 2008 .Lot 118. Sold for £1,200
Please see the link below:
http://www.bonhams.com/auctions/16444/lot/118/
MEASUREMENTS: Overall length, (including the curve faces of the buckle): 24.2 cm (9 1/2 in).
Distance from one end to the other, (in a straight line to the far end of the buckle): 20 cm 7 7/8 in).
Height: 14cm (5 1/2 in).
CONDITION: In good condition considering its age, showing the age and usage, some wear to the gold gilding, otherwise in good condition.