SOLD Antique large Tibetan Sword Dpa'Dam 18th-19th Century Tibet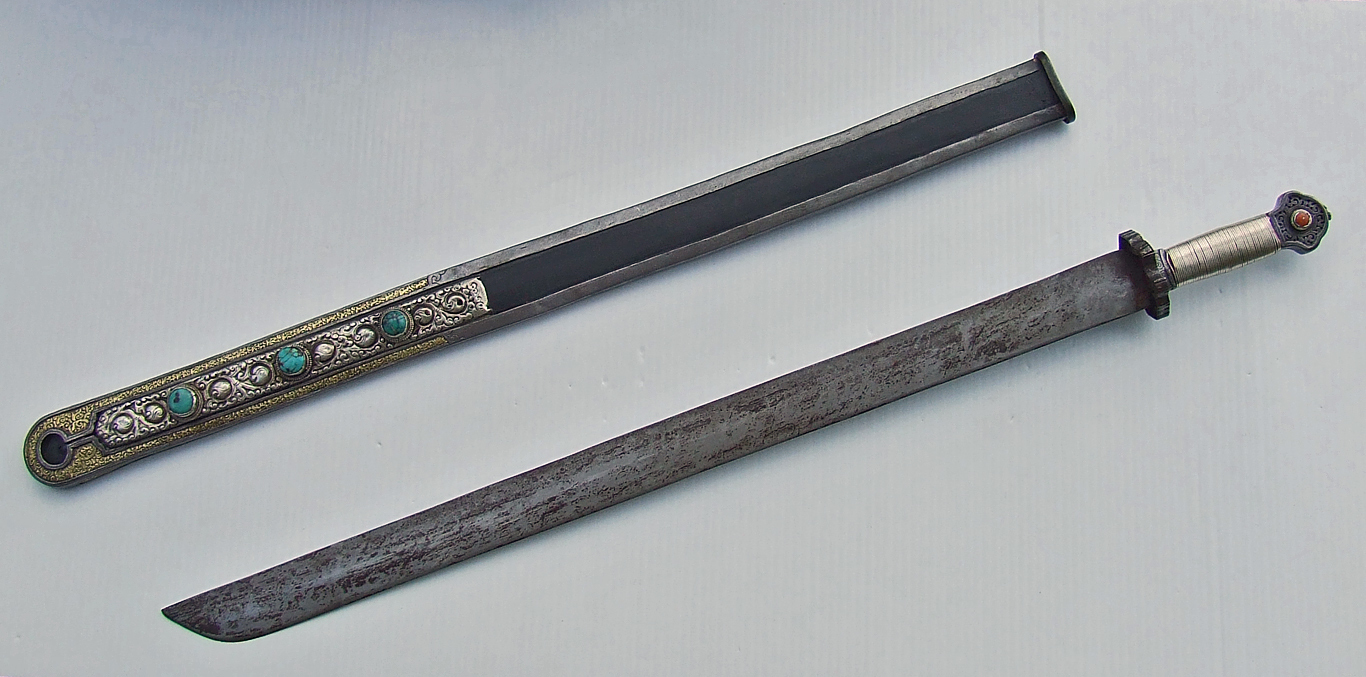 SOLD An antique, 18th-19th century, large Tibetan broadsword, "dpa'dam," with a broad single edged steel blade with low medial ridge.
The hilt of characteristic form including fluted crossguard composed of two, copper soldered, iron parts, a horn grip bound with silver plated copper wire, iron ferrule, and shaped pommel are chased in low relief on the outer side with scrollwork, the pommel is set with a coral in silver setting.
In its original scabbard lined with leather-covered wood, with iron frame, inlaid in lower part of the exterior with brass incised with scrollwork, and engraved along the sides with fret pattern. The display face of the scabbard is applied with a large convex panel made of low grade silver alloy that is embossed and chased with scrollwork and bejewelled with three large turquoises stones.

CONDITION: Age and usage is showing, the silver panel is slightly worn, blade with surface rust spots.The iron frame of the scabbard bent.

Please note that this is not a common poor quality Tibetan sword such as most other Tibetan swords, but is of museum quality and considered as Tibetan art work, a similar sword to this one can be found on display in the most important world museum, the Metropolitan Museum of Art, New York.

REFERENCES: Very similar 18th century Tibetan swords from the collection of the Metropolitan Museum of Art, New York, are published in the catalogue. Warriors of the Himalayas: Rediscovering the Arms and Armor of Tibet by Donald J. LaRocca. Which also can be viewed on line. Please see the links below:

http://www.metmuseum.org/art/collection/search/27782
http://www.metmuseum.org/art/collection/search/27779
http://www.metmuseum.org/Collections/search-the-collections/27781

MEASUREMENTS: Overall length of the sword sheathed in the scabbard: 84.8 cm (33.39 inches), the Overall length without the scabbard: 78.7 cm (30.98 inches). Length of the blade: 66.2cm (26.06 inches). Width of the blade near the guard: 4cm (1.57 inches).