SOLD Antique Oceanic Papua New Guinea Two Necklaces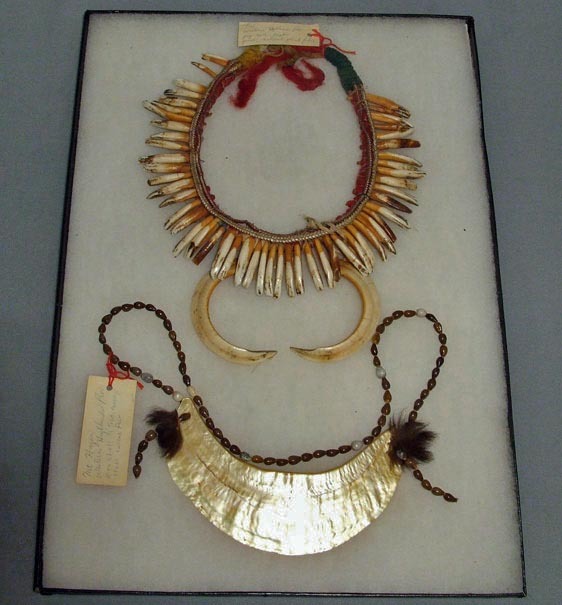 SOLD Two old Oceanic Papua New Guinea necklaces (First Half of the 20th Century).The large necklace is composed of two wild boar tusks and teeth. Retains an old paper tag with a description written by the owner, that reads "Minj Western Highlands Prov pig teeth lusks grass natural plant fiber". The other necklace is with a pearl shell pendant also with a description on the tag written by the owner that reads "Mt Hagen Western Highland Prov. Kina Shell (Trade money) seeds, cuscus fur". Both of the necklaces are with a beautiful old natural patina with signs of wear and usage; the shell pendent does however have a later replacement nylon fishing line as a string and the larger necklace is also fastened beside the old string, which is worn and in large percent missing, by a nylon fishing line.
MEASUREMENTS of the Tooth necklace: Height: Approximately 31.7 cm (12 1/2 inches) from the neck part to the end of the boar tusks.
MEASUREMENTS of the shell necklace: Height: Approximately 40 cm (15 3/4 inches) from the neck part to the end of the shell. The length of the shell pendant is 18 cm (7 1/8 inches).
Provenance: Acquired from an estate sale. The necklaces were in the possession of the owner in the same condition since the 60s.
Over the years we were able to obtain some oceanic material including some necklaces but never as spectacular as this. Nylon fishing line used for repair and fastening is found from time to time on older pieces of Papua New Guinea ethnographic material as it is strong and clear and was a new product used after WW II as a universal product. Usually the person who acquired the item bought the item in a poor condition where the older wrapping was worn and became loose, so in order to protect these older artifacts, wrapped the nylon around them. Many old Papua New Guinea necklaces collected in the 50s were repaired in this way, although very unsightly and unprofessional, at least it protects the integrity of the piece. So this is good evidence that the necklaces are older pieces as forgers who make reproductions try to avoid using any syntactic material, particular nylon fishing line, and use only natural material which they later professionally artificially age to fool collectors that the object is an older piece, so they would never put nylon fishing line on the objects which they pretend to be authentic and old. Someone should however secure the necklaces in a more curatorial way without nylon, this was intended only as a temporary solution, we do not want to removed the nylon since this is excellent evidence that the items are genuinely old with later repairs.