SOLD Antique Mother-of-Pearl Orthodox Christian Icon Resurrection of Jesus Christ 19th Century Jerusalem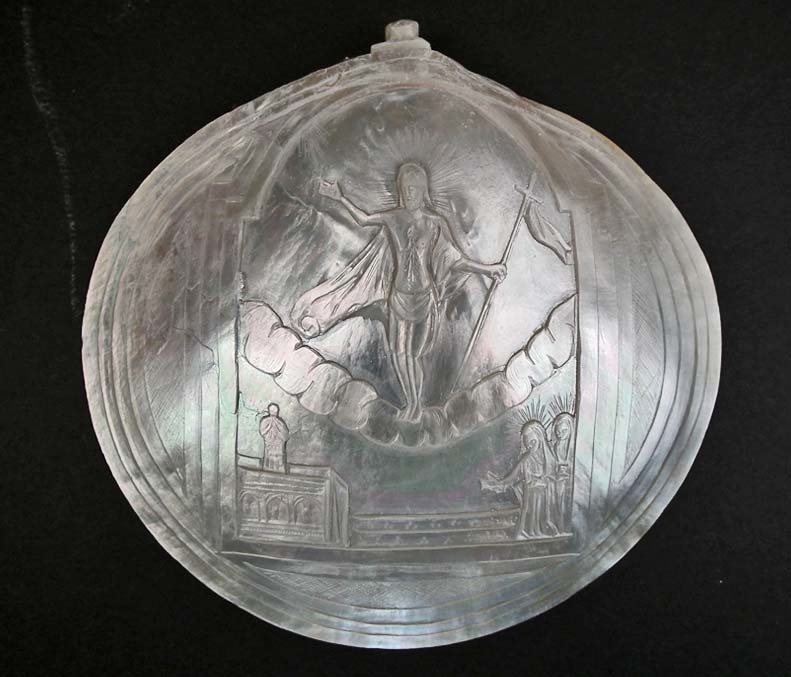 SOLD Antique, 19th century, Jerusalem School, Mother-of-Pearl, Orthodox Christian Icon of convex oval form. The exterior finely hand carved in low relief with a central raised arch panel depicting the Resurrection of Jesus Christ.
REFERENCES:
1. CHRISTIAN IN THE HOLY LAND – "The Art Of Melchites And Other Denominations Of Orthodox Church" Saint Petersburg 1998.
2. El Arte Palestino de Tallar el Nacar by Fabián Jiménez.
3. Pilgrim Treasures from the Hermitage: Byzantium - Jerusalem: Lund Humphries.
Please note that this particular medallion is a museum Quality art work, and in fact, it could be displayed in the most reputable world museums.
Comparable Mother of Pearl medallions are in the collection of The State Hermitage Museum in Saint Petersburg, Museo Oceanografico di Monaco, and also in, The Sergiev Posad State History and Art Museum.

CONDITION: The icon is in very good condition, free of cracks, or restorations. The irregular lines on the left side are not cracks, but the natural growth lines of the shell, exposed during the process of carving.
MEASUREMENTS: Height of the shell: 14.7 cm (5 3/4 in). Width: 14.8 cm (5 3/4 inches).
Due to the shiny surface of the Mother-of-Pearl, it is difficult to photograph. The pictures do not show the exquisite details of the carving, or the actual sparkling pearl color of the surface.