SOLD Antique Mandau Sword Head Hunters Dayak 19th century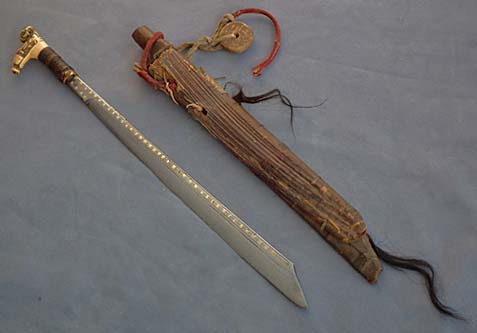 SOLD Rare Authentic Antique early 19th century sword MANDAU - Parang Ihlang of Head Hunters Dayak of Borneo.
DETAILS: The hilt is elaborately carved of staghorn, with aso and tuba motifs, with seven brass wire bands set with hair tufts, a leather frog, and an outer pocket with its original carrying cord. A handforged convex blade engraved and inlaid in brass with ricasso elaborately engraved with aso motifs.
CONDITION: The sword is in good condition considering its age of over 200 years.
MEASUREMENTS: Overall length: 66 cm (26 in).
REFERENCES: 1) "Traditional Weapons of the Indonesian Archipelago" Albert G. Van Zonneveld 2) "A Glossary of the Construction, Decoration and Use of Arms and Armor in All Countries and in All Times" by George Cameron Stone.
Such early examples of Mandau hardly ever appear for sale.