SOLD Antique Chinese Executioner Sword Dao 17th -18th century Qing Dynasty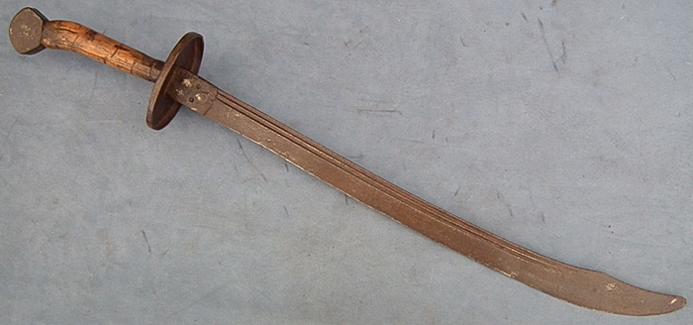 SOLD Authentic antique 17th -18th century Chinese Qing Dynasty two handed Executioner sword Dao.

Details: An extremely sharp hand forged steel blade with two long narrow grooves on both sides, mounted in wooden grip with large oval shaped iron hand – guard and massive solid iron pommel of rare flattened form with edges.
REFERENCES:
1) "Iron and Steel Swords of China" by Alex J. Huangfu.
2) A similar Chinese executioner swords to this one but in very poor condition are published in the Book "Antique Swords & Daggers" by Mircea Veleanu (published 2006) priced $2000 and dated to as early as the Ming Dynasty. Page 197-198.
MEASUREMENTS: Overall length: 86.5 cm (34 in).
CONDITION: A sign of usage and wear, the blade is bent and hilt pitted which can be expected from authentic antique sword.