SOLD Very Rare Antique 15th-17th century Turkish Ottoman Armour Arm guard Bazuband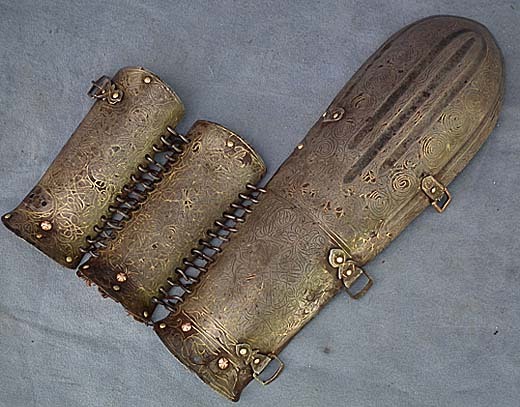 SOLD Bazuband, for the right arm, of typical early Turkish form, with twin wrist splints plates. The outer surface engraved with floral arabesques, and inlaid in koftgari, decorated by pins with rosette finials, and set with small buckles for straps, retaining studs for lining.
CONDITION: Signs of age and usage, worn koftgari inlay, one small buckle on the wrist splint is missing, another is broken, some spots, slightly corroded, however, still in good condition considering its age.
MEASUREMENTS: Overall length: 34 cm (13 3/8 in). Width of the bazuband alone: 10.5 cm (4 1/8 in). Overall width with the wrist splints plates: 23.5 cm (9 1/4 inches).
Compared to Indo Persian Bazubands, the Turkish Ottoman Arm guards Bazubands are rarely seen, not only on the antiquarian market, but also in museums. Turkish Ottoman Arm guards Bazubands are so rare that in many museums curators display mistakenly Ottoman leg guards, as arm guard Bazubands, as they have never seen early Turkish arm guards BazuBands.
A pair of similar Ottoman steel Bazubands, but in better condition, had been sold in the Christie's Art of the Islamic and Indian World London, on 8 April 2008, lot 181, for £23,300 ($46,181).