SOLD Rare Antique.C.1900 Islamic Persian Officer Sword With Zoroastrian Faravahar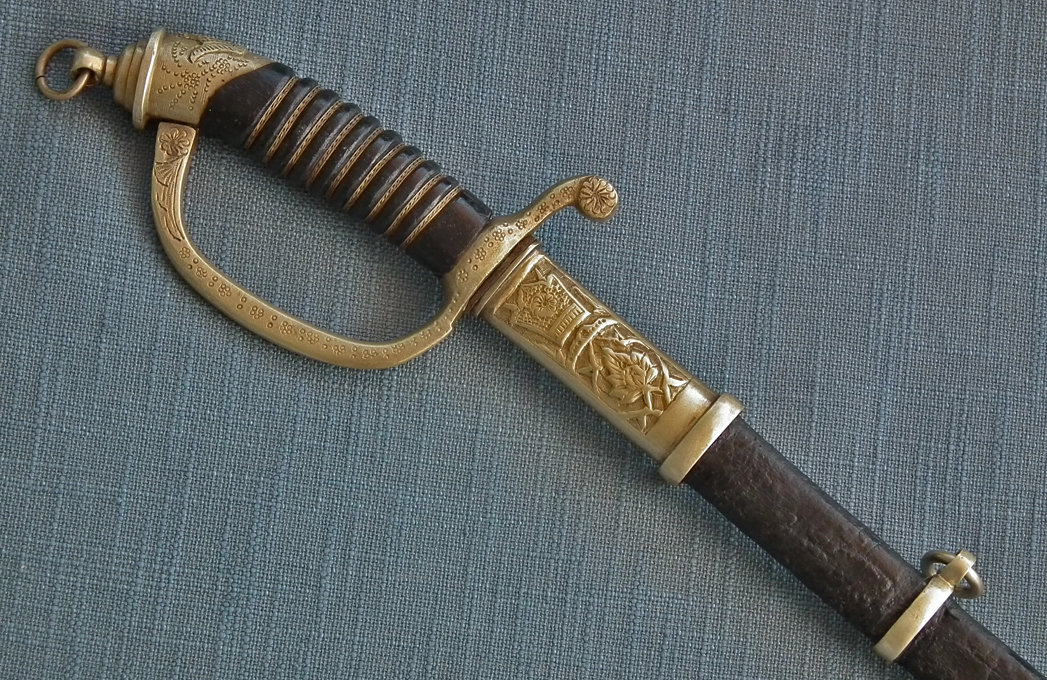 SOLD A rare and seldom seen antique, C.1900, Persian Officer's Sword.
Details: A brass stirrup hilt influenced by the Imperial Russian officers' swords with down-curved rear quillon, adorned with a series of dots and rosettes, a spirally carved black lacquered wood grip wrapped in twisted brass wire and fitted with brass pommel chiseled with Persian crown, and surmounted by the knob with the ring for the tassel. The double fullered, single edge straight, nickel plated, steel blade with a very pronounced, tapering point is stamped on one side of the forte with the script in Arabic letters, possibly the manufacture marks. The sword comes with its original, black lacquered, leather scabbard mounted with a brass chape, locket, and two suspensions mounts.

The locket and chape are decorated with chiseled ornamentation including an Persian Crown and "Faravahar" a winged disk with a human figure within it. "Faravahar" is the Symbol of Zoroastrianism. So, the officer to whom the sword belonged most likely was a follower of Zoroastrianism.

CONDITION: In good overall condition considering its age (showing its age and usage), with some slightly pitted spots on the blade.

MEASUREMENTS: Overall length, with the scabbard: 97.5 cm (38.39 inches), the length of the sword, without the scabbard: 96 cm (37.8 inches).