SOLD Rare Antique 19th century Mexican High-Ranking Officer Sword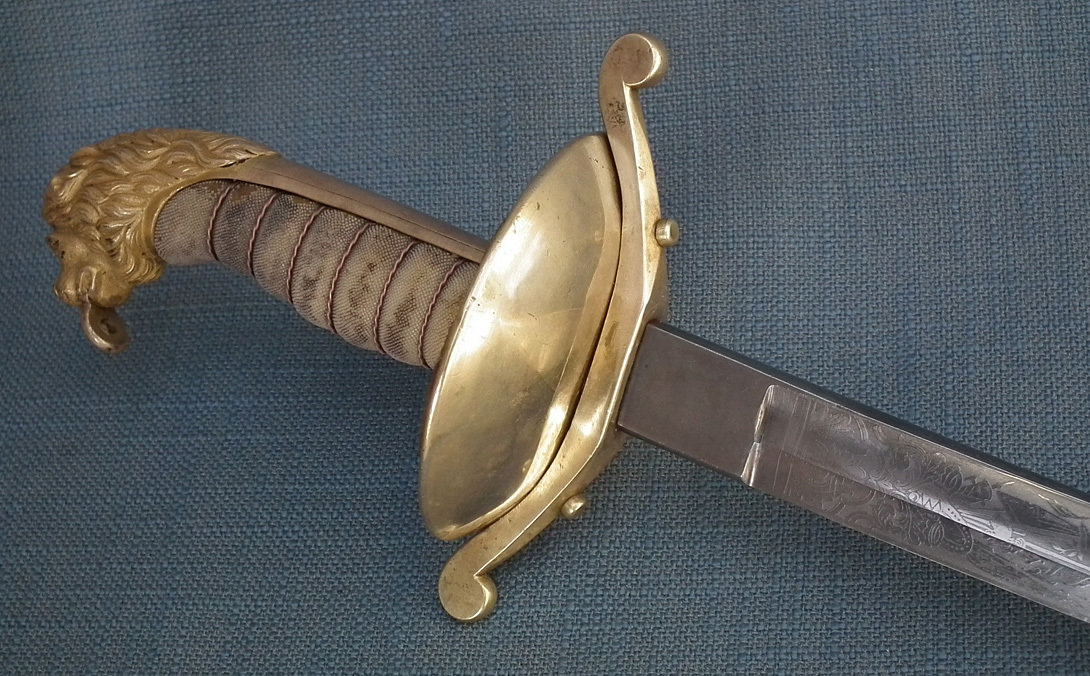 SOLD A Very Rare antique 19th century, Mexican Army, High - Ranking Officer Sword with slightly curved single edged steel blade, cut with full-length fuller etched on the both faces with coat of arms of Mexico (Escudo Nacional de México). An Mexican golden eagle perched on a prickly pear cactus devouring a rattlesnake, amongst floral sprays and panoply of arms and armor, banners and cannons, and leaves along the spine. A gold gild brass hilt with cup guard and recurved crossbar riveted on to the cup, the interior padded with leather liner stuffed with horsehair. Ribbed wooden grip covered with sharkskin, bound with twisted copper wire and ornate back strap with brass lion head pommel with portepee ring.

We tried to find this particular model of Mexican sword in any possible sources, such as books, catalogues and the internet, unfortunately we weren't able to find another sword like this. So is possible that this is an very rare sword custom-made in one example for the high rank officer of Mexican army and only one, world known.
The cup guard with recurved crossbar, bolted to the guard is in the form of Espada Ancha published in the book Spanish military weapons in colonial America, 1700-1821, by Sidney B Brinckerhoff; Pierce A. Chamberlain Page. 93. Plate 174, and also some other Mexican swords from the first half of the 19th century (please see the last pictures in the listing)

MEASUREMENTS
Overall length: 96 cm (37.8 inches)
Length of the blade: 82 cm, (32.28 inches)

CONDITION This sword is in good condition considering its age, showing its age and usage, some wear to the gilding on the back strap and sharkskin.