SOLD Rare 4 Antique Victorian Indian Sikh Terracotta Figurines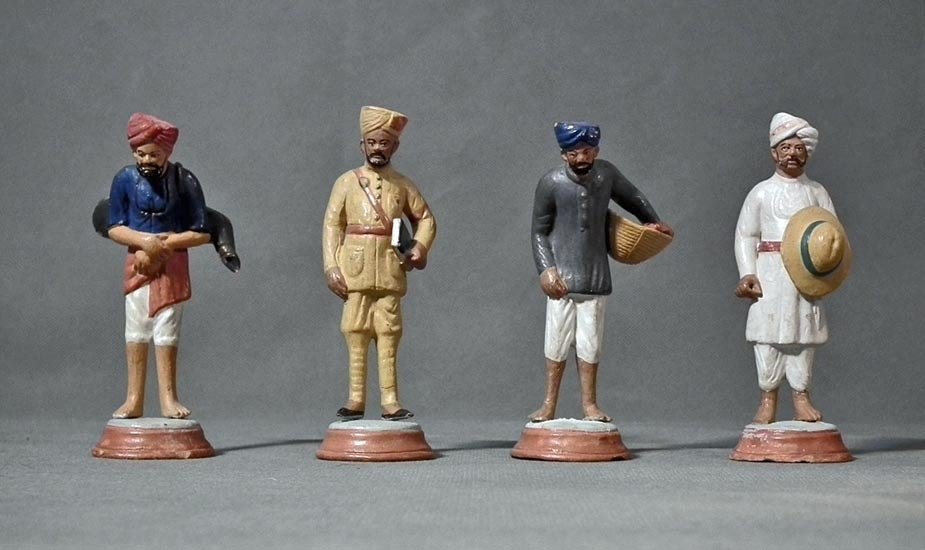 SOLD A group of four antique, late Victorian, Circa 1900, Indian terracotta figurines. Each standing on the circular base finely hand sculptured with great details and finely hand pained in various colors. The figure depicts Indian Sikhs wearing different garments and characteristic Sikh turbans, two of them are Sikh workers, the other figure represents an Sikh servant holding an English pith hat, and the fourth figurine depicting a Sikh officer in the British service wearing a military uniform.
Most of these types of terracotta figures were made during the late 19th century in India at Lucknow.
This type of terracotta figurines were made during the 19th century in India at three main centers distinctive, Lucknow, and Poona. Figures from Lucknow have distinctive on style depicting a figurine in characteristic northern Indian costumes those from the Krishnanagar and the Poona are dressed in garments of these areas. This figurine comes to be renowned in the British empire and enjoyed the most success at International exhibitions including at London in 1851 and Melbourne in 1880. Figures of this type were bought by Europeans as examples of the radically different life in India, and interestingly they were also acquired by wealthy Indians to demonstrate the hierarchy of the country.
Time from time this type of Indian terracotta figurines appears for sale at Christie's and Sotheby's auctions and had been sold for thousands of pounds, also they came to be found on display in famous world museums such as Victoria and Albert London England and in the museums in Victoria Australia However, the figurines depicting the Sikhs are very rare compared to the other types of figurines which most of them are wearing garments from the area of Krishnanagar and Poona.
CONDITION: The figurines are in good condition, considering its age of more than 100 years, with no cracks, restorations, or repairs except for minor chips and wear.
MEASUREMENTS
Height of the largest figure (Sikh officer): 10.5cm (4.13 inches)