SOLD Mural Bas-Relief Painting by listed Croatian American Artist Ljubo Biro (1913-1994) Portrait Of A Man In Classical Ancient Manner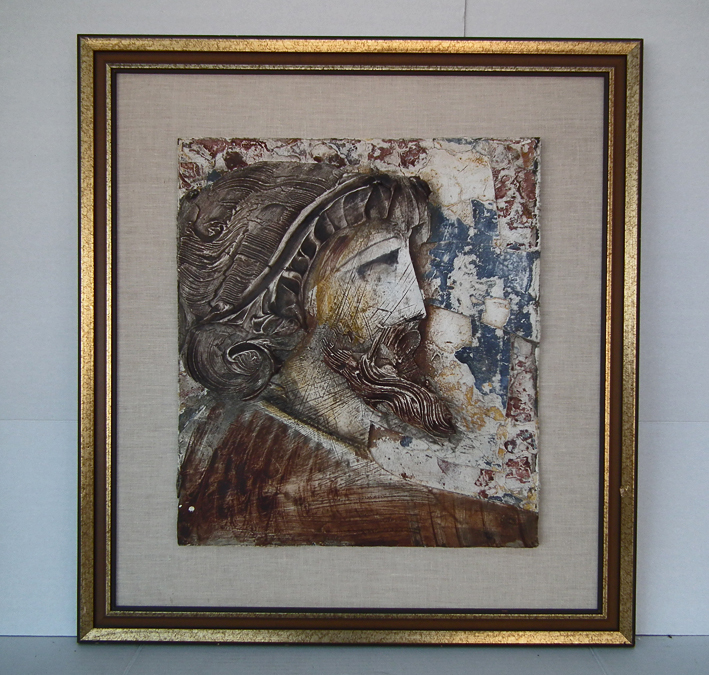 SOLD An original mixed media Artwork, multiple plaster bas-relief, depicting a portrait of a Man in classical ancient Greek manner, by listed Croatian American (Michigan) artist, Ljubo Biro (1913-1994). Signed by the artist "L. Biro," at bottom right side.
The artwork is matted on burlap over board and framed.
Many of his murals artworks are in public buildings in Detroit and throughout the U.S.A.
His art works are in display in many galleries, including, The Fine Arts Society of Sarasota Art Collection, on permanent display at the Van Wezel Performing Arts Hall.
Please see the link below:
http://webcache.googleusercontent.com/search?q=cache:Vs-vOGkrnW4J:fineartssarasota.org/art-collection-3/art-collection-2/+&cd=9&hl=en&ct=clnk&gl=ca
On, 9 - 31 March 2011, was the exhibition of Ljubo Biro artwork in Museum Of Modern and Contemporary Art in Rijeka Croatia.
Please see the links below:
http://www.mojarijeka.hr/kultura/otvorena-izlozba-ljube-biroa-impresije-s-putovanja
http://www.mmsu.hr/Default.aspx?art=309&sec=106
https://www.youtube.com/watch?v=-Zah8obyYCU
http://www.novilist.hr/Kultura/Izlozbe/Otvorena-restrospektivna-izlozba-Ljube-Bira
There was also published a catalogue of this exhibition, please see the link below:
http://www.mdc.hr/hr/mdc/knjiznica/katalog-knjiznice/?a=?n=&i=Muzej+moderne+i+suvremene+umjetnosti&vg=&p=&isbn=&kr=&stranica=4&katalogId=32590
Ljubo Biro (1913-1994) born in Zadar, Sibenik, he finished nautical school and the Naval Academy Navy. In 1940 he founded the family in Rijeka, In1946 he was employed as a radio operator on board Jugolinija. From 1959 to 1960 he taught as a professor at the Higher Maritime School in Rijeka. During the twenty years of sailing visited many foreign countries on nearly every continent, meeting different cultures and people, constantly noting, seeing, and experiencing their artistic impressions. From 1951 he began to paint the world voyages, and from 1952 publicly exhibiting works. From 1966 he settled in Detroit and Sarasota and worked in his own studios, exposing many exhibitions, and also taught at several universities. He died in Rijeka in 1994.

Looking today, at available images, it can be seen The Biro development path and search of his own expression through figurative lyrical realism; at the earliest stage with motifs of landscapes, architecture, human or animal character who evolves through abstraction details, rejection of redundancy, linearization forms, and highlighting contour lines to clear irrelevance - expressive coloristic abstraction. In addition to traditional media and new techniques applied (layered relief technique).
Plenty of impressions, that in his travels, perceived and recognized, the Biro continuously absorbs and stores in itself. Through the lens of personal vision in his paintings, impressions transformed into a completely new reality, as a reflection of cultivated viewing and perception of reality in which the color bestowed upon a different life, new characteristics, autonomous existence and, above all, exceptional expressiveness of action, which is the author's interpretation of the real world.
CONDITION: In its original excellent condition as was acquired, free of repaint, repairs or restorations, the frame with some minor chipping as is common in old frames.
MEASUREMENTS: Dimensions with the frame: 68.3 cm x 63cm (26.89 inches x 24.8 inches).