SOLD Czech landscape oil painting by Czech Painter Frantisek Danek - Sedlacek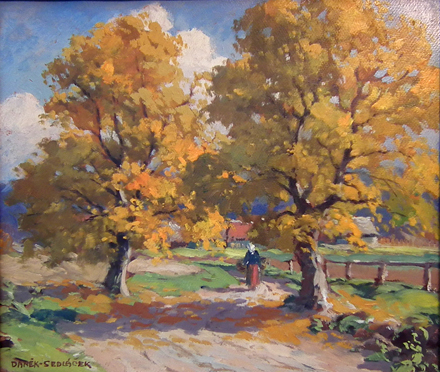 SOLD Authentic Czech oil painting on board by listed well known Czech Painter, Frantisek Danek - Sedlacek (1892-1974). This well executed painting depict a beautiful Czech countryside in the autumn.
Date of creation: circa 1930.
Signed in lower left corner "Danek Sedlacek".
The painting comes with its original frame.
CONDITION: The painting is in very good condition, no repairs or restorations whatsoever. The wooden frame is chipped.
DIMENSIONS: Size of painting in the frame: 59 cm x 52.7cm (23 1/4 in x 20 3/4 in). Dimensions with out the frame: 49.5 cm x 42.5 cm. (19 1/2 in x 16 3/4 in)