SOLD Authentic Antique 17th -19th century Russian Orthodox Icon Mother of God Fedorovskaya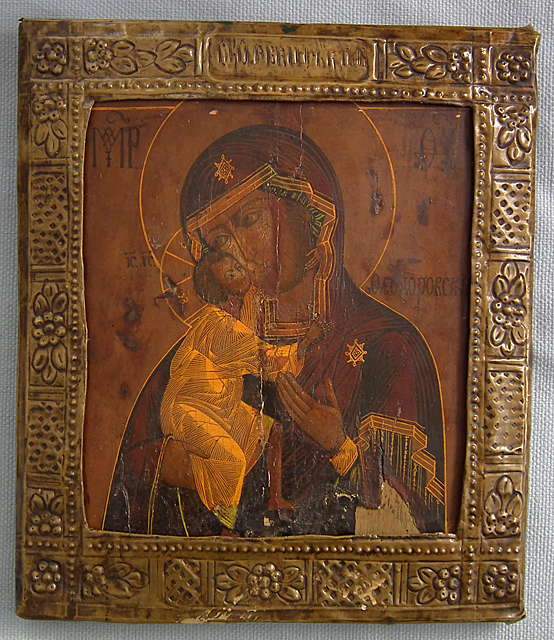 SOLD Authentic antique, late 17th - early 19th century, Russian Orthodox Icon (Theotokos) Mother of God Fedorovskaya.

The Icon is finely traditionally hand painted in tempera on a gessoed wooden panel. The icon is cased around the outer edges of the icon, in a repousee brass frame" Basma".

This kind of icon cover in the form of a frame around the outer edges of the icon, was most prominent in the 17th century in Russia — the basma (басма). The basma was the early form of icon ornamentation. It consisted of embossed sheets or strips of metal tacked onto the surface of the icon, around the outer edges of the icon.

Icon; painted; the Virgin is shown half-length facing left and holding the Christ child with her right hand. Her head is slightly inclined towards the Child, who embraces her with both hands. The clothes of both figures are decorated with gold highlights. The infant Christ is depicted with a bare left leg, a symbol of his future agony on the cross.


CONDITION: With an old patina and wear, old vertical crack in the wood panel stabilized by glue, some flakes in gesso and paint, particularly a spot below the left hand of the virgin. All of this is an aspect from an authentic antique icon that is over 200 years old. Please notice that the pictures in the listing are apart of the description of the condition of the object.

All ours antiques are sold in the condition as acquired, we do not perform any restorations, but leave the decision regarding restoration to the future buyer.

DIMENSIONS: 31.5 cm x 27 cm (12.4 inches x 10.63 inches)

This icon represents a well-known type in Byzantine art called the 'Glykophilousa' (also known as 'Eleusa') and which was to spread all over the Orthodox world. Several variations are known. This type, with a 'bare leg', became known in Russian icon painting in the 13th century as the 'Mother of God Feodorovskaya'. The icon's name derives from a legend in which the miracle-working icon first appeared in a forest to Prince Basil of Yaroslavl' on 16 August 1239. The icon was subsequently taken to the church of Theodore Stratilates in the town of Kostroma. St Theodore Stratilates was a 4th-century martyr-saint especially esteemed as the protector of warriors and princes. Michael Romanov (1596–1645), the first tsar of the Romanov dynasty, was blessed by this miracle-making icon when he came to the Russian throne in 1613. He established a special celebration feast to the icon on 14 March. The Feodorovskaya icon is the patron icon of the Imperial Russian Romanow family and subsequently became one of the most glorified images of the Virgin Mary in Russia.