SOLD Antique Sword Mandau Parang Ihlang of Head Hunters Dayak Borneo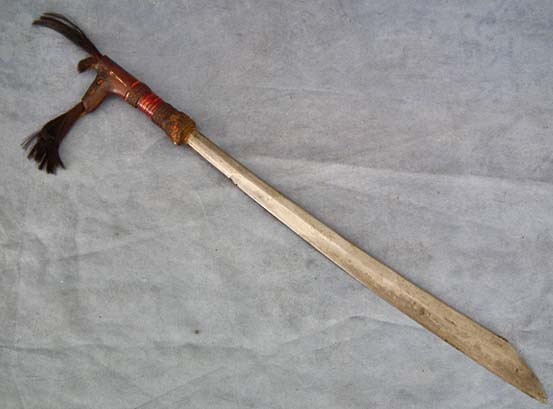 Authentic Antique 19th century sword MANDAU - Parang Ihlang of Head Hunters Dayak of Borneo.
DETAILS: A wooden hilt set with hair tufts, a pommel carved with traditional aso and tuba motifs, the grip bound with rattan and accented with two finely braided bands, ended with an old resin ring.
A hand forged slightly curved blade with a visible watered pattern, bevel on the external face, and convex on the inner side.
CONDITION: The sword is in good condition considering its age of over 100 years, except for minor age cracks in the wooden pommel.
MEASUREMENTS: Overall length: 63.2 cm (24 7/8 in).
REFERENCES: 1) "Traditional Weapons of the Indonesian Archipelago" Albert G. Van Zonneveld 2) "A Glossary of the Construction, Decoration and Use of Arms and Armor in All Countries and in All Times" by George Cameron Stone.