SOLD Antique Spanish Colonial Retablos Mater Dolorosa Our Lady of Sorrows 18th century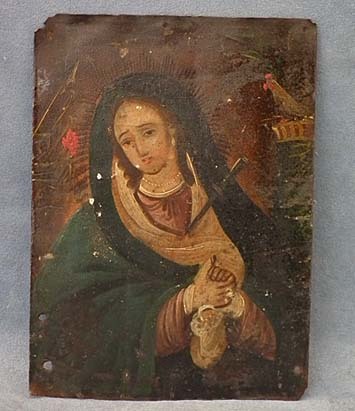 SOLD Antique, late 18th - early 19th century Spanish Colonial religious oil painting - Retablos on a metal (tin) plate of Mater Dolorosa [Our Lady of Sorrows]. In the 18/19th century, as the Spanish colonial population increased in and around what are today Mexico and New Mexico, imported religious ornaments were not plentiful enough to satisfy the needs of these people, who very pious and dedicated to the church. Retablos responded to the demand for devotional objects of worship used in every home, as well as in churches.
For believers, Retablos are much more than images. They are imbued with a saint's spirit, which can be invoked through devotion and prayer. Retablos are intermediaries between heaven and earth who can communicate with God on behalf of their devotees. Saints may be asked to help cure an illness, bring consolation for a loss, avert a disaster, or otherwise provide for the physical and psychological well-being of believers and their loved ones. A saint's power arises from his/her ability to perform requested favors or miracles. Devotees are responsible for keeping the saint satisfied through acts of devotion, and by acknowledging publicly any favor received. Although retablos were hung and placed in churches, colonists also installed them in their homes, especially in the sala or living room, where they could be venerated daily.
CONDITION: In its original condition no repairs, or restorations. Minor paint loss, same scratches, slightly bent, two corners damaged.
DIMENSIONS: 17.8cm x 12.8 cm (7 in x 5).
Due to the fact that the market is flooded by reproductions of Spanish Colonial Retablos, which for inexperienced collectors look the same, we would like to inform our clients that this is a 100% authentic antique Retablos, and is accompanied by a Certificate of Authenticity.