SOLD Antique Silver mounted Turkish Ottoman Islamic Sword Yatagan Yataghan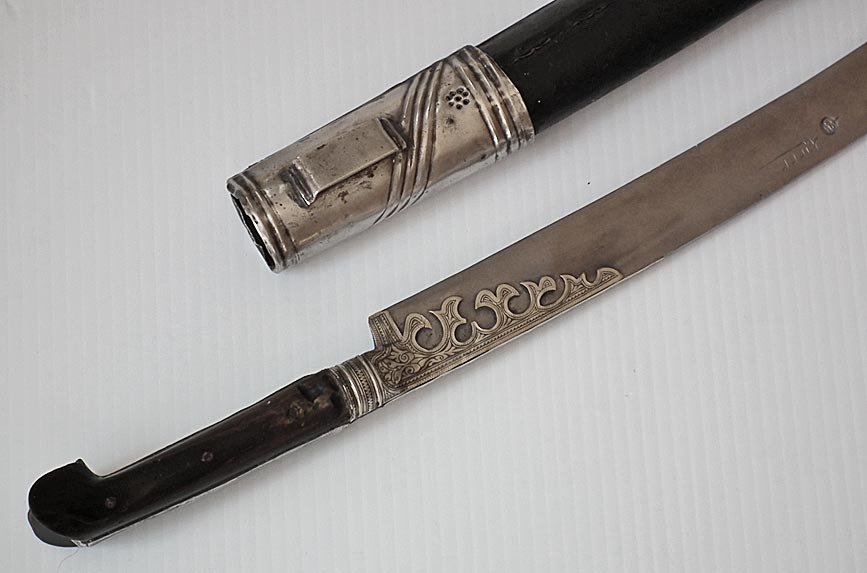 SOLD Antique, early 19th century, Dated 1222 Hijri (1807.A.D) silver mounted Turkish Ottoman Islamic Sword Yatagan -Yataghan.
DETAILS: The hilt is of characteristic form composed of two horn grip-scales riveted to the tang, end mounted in solid silver, richly ornamented with finely hand chased, in low relief, bands of scrolling vine on nielloed ground. The recurved single edged blade with shallow fuller is deeply struck on the forte with an Ottoman sword smith's mark, and engraved with Dated 1822.A.D. The spine of the blade is encased in solid silver and inscribed in niello in the Arabic alphabet, the wooden scabbard is covered with wire stitched leather and fitted with a large silver plating chape and locked with suspension mount.
CONDITION: The sword is in good condition considering its age, signs of usage and wear, blade slightly pitted, the horn hilt chipped.
MEASUREMENTS: Overall length with the scabbard: 78.5cm (30 7/8 inches). Overall length without scabbard: 76.2 cm (30 inches).
REFERENCES:
1) "Yanissari – History Symbols Weapons" by G.E.Vvedensky.
2) "Zbirka Jatagana" by Dora Boskovic.
3) "Les Armes Blanches do Monde Islamic" by Alain Jacob.
4) TURKISH ARMS by E.G.Astvatsaturjan.
A Turkish Ottoman sword Yatagan of similar form is in The Jorge Caravana Collection, and published in the book Rites of Power: Oriental Weapons / Rituais de Poder: Armas Orientais: Collection of Jorge Caravana. Page 80. Fig. 7. and can also be viewed on line, please see the link below.
http://www.caravanacollection.com/?project=yatagan-sword
The buyer will be provided with a copy of the pages from the mentioned references, together with a certificate of authenticity.