SOLD Antique Silver Mounted Scottish Highlander's Dirk Dagger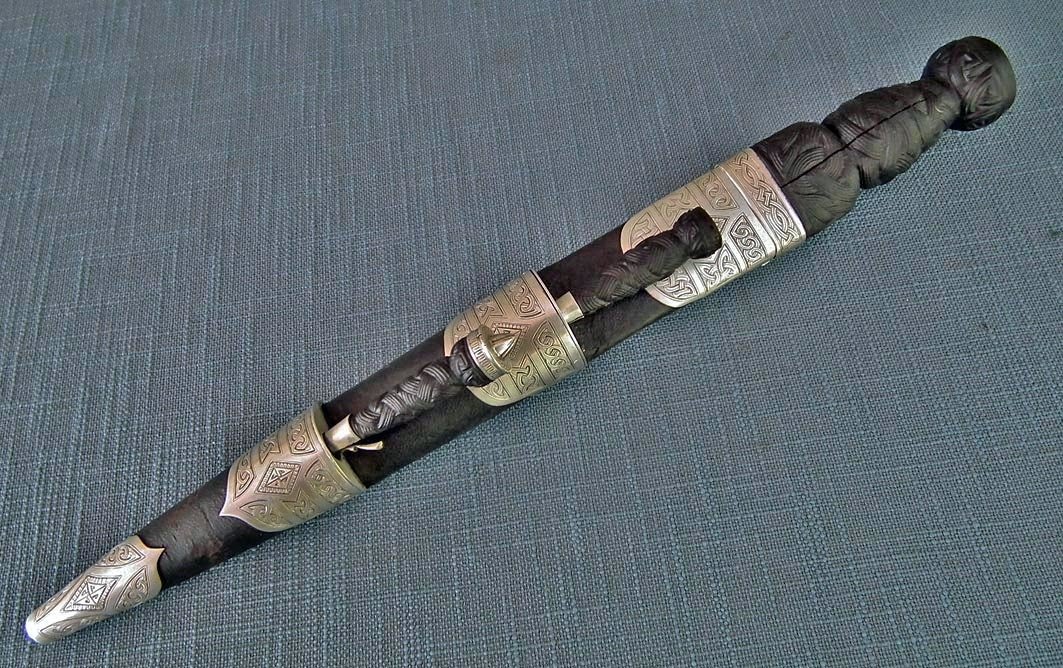 SOLD Antique Early 20th Century King George V period, Sterling Silver mounted Scottish Highlander's Dirk with its matching bi-knife and fork, each set with ebony wood grips and are finely carved with a traditional Celtic weave pattern. The scalloped back spear point is single still blade and single cut on the both sides with a narrow fuller. The wooden scabbard is covered in black leather with large silver mounts, decorated in finely chiseled interlace Celtic design, the locket is engraved on the center with an elaborate initial within the diamond shaped boundary and fitted on the back with a loop for suspension and stamped with Scottish silver assay Hallmarks and the maker initials.

CONDITION: Showing its age and usage, absence of the silver pommel cup of the dirk. The bi-knife clasp and the silver pommel cup are missing. The still blades of the dirk, knife, and the fork shows some discoloration, erosion, pitting and signs of wear, sharpening, and abrasion. PLEASE SEE THE PHOTOS AS THEY ARE A PART OF THE DESCRIPTION.

MEASUREMENTS
Overall length with the scabbard: 42.5 cm (16.73 inches)
Overall length without the scabbard: 35.2 cm (13.86 inches)
Length of the blade: 23.6 cm (9.29 inches)