SOLD Antique Silver Mounted Nepalese Gurkha Combat Knife Dagger Kukri Khukuri Nepal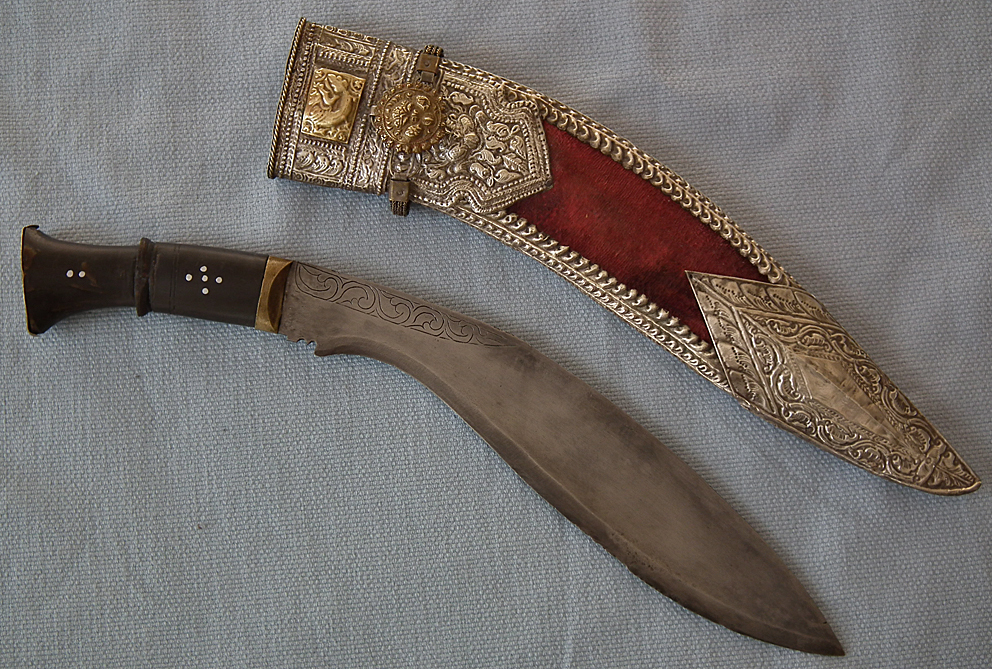 SOLD Antique 19th century Nepalese Gurkha combat knife, kukri / Khukuri. Details: Good quality hand forged single edge very sharp steel blade of characteristic re-curved form and graceful profile with a long shallow fuller, decorated along the back-edge with chased scrolls, mounted in a buffalo horn hilt with an brass ferule and pommel cup. In its original wooden scabbard with the outer face covered in red velvet with large chape and locket, made of low grate eastern silver aloe and joined by two silver reinforcement straps decorated in repousee and chased in relief with scrolling foliate, chape adorned with brass repousee medallion hanging on a roped chain.
CONDITION: the blade with minor pitting, edge notched the rim of the horn hilt chipped, otherwise in good condition.
MEASUREMENTS: Overall length with the scabbard: 45.5 cm (17 7/8 in).