SOLD Antique Silver Mounted Indo Persian Islamic Sword Khyber Knife Salawar Yatagan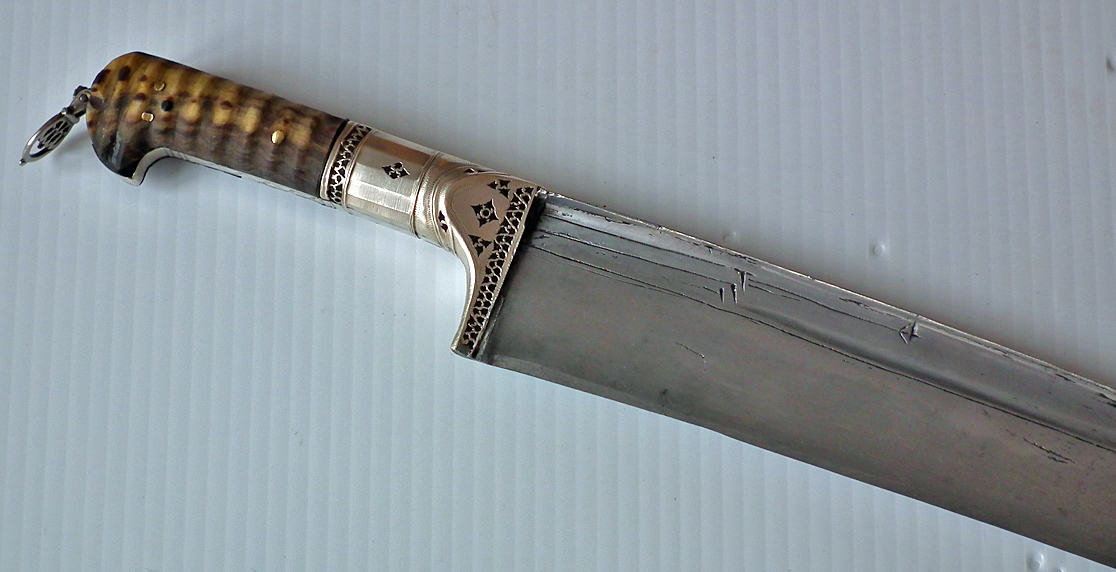 SOLD Fine, silver mounted antique, 19th century, large Indo Persian, Central Asian Islamic Sword "Khyber Knife" or "Salawar Yatagan" (a national sword of the Afridis and many other tribes living in and near the Khyber Pass, Turkistan, Uzbekistan and Tajikistan).
Details: Made of Damascus steel Wootz, straight and heavy single-edged blade of "T" shape cross-section tapering gradually from the hilt to the point, cut with narrow full-length fuller. The spine chased with grooves and three cartouches, the hilt is formed of two pieces, deeply ribbed horn grip-scales riveted to the tang, mounted in solid silver, decorated in pierced and inlaid in traditional Central Asian design, the silver grip straps engraved with geometrical pattern adorned with a hinged pierced finial. In its original silver mounted wooden scabbard partly covered by brown leather, fitted with a large silver chape and a silver suspension mount.
CONDITION: The sword is in very good condition, except for the wooden scabbard, (damaged, absence of leather on the upper part of the scabbard), otherwise in good condition.
MEASUREMENTS: Overall length with the scabbard: 74 cm (29 1/8 inches). Overall length without scabbard: 66.5cm (26 1/4 inches).
This is a much better quality sword, than an average example of silver mounted Salawar Yatagan with Damascus steel Wootz blades which are very rare and are hardly ever seen in museums collections.