SOLD Antique Set of brass Nesting Apothecary's Weights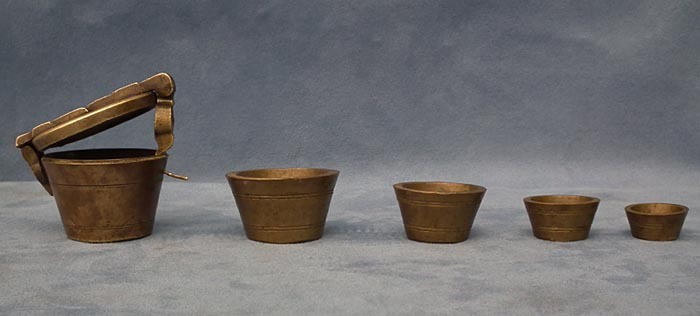 SOLD Authentic antique 19th century dated 1825 .A.D. set of brass nesting apothecary's weights with hinged lid and containing a series of weights; each weight stamped in the interior with numbers and the date 1825. 1, 2, 4, 8, the interior of the master cup is stamped with 16. The lid is stamped with date 1825, double-headed eagle, "W.1" and same other markings.
CONDITION: in good condition, considering its age of more than 100 years, with no cracks, restorations, or repairs.
MEASUREMENTS: Height: 4.5 cm (1 3/4 inch). Width: 7.5 cm (2.95276 inch)
Due to the fact that the market is flooded with reproductions of nesting weights, which for inexperienced collectors look the same as the authentic, we would like to inform our clients that this is a 100% authentic antique object, and is accompanied by a Certificate of Authenticity.