SOLD Antique Parcel-Gilt Silver Post-Byzantine Orthodox Pectoral Reliquary Cross 18th c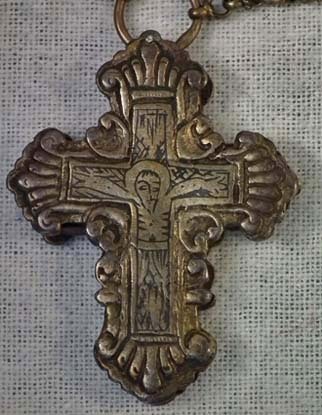 SOLD Antique 18th century parcel-gilt silver post -Byzantine orthodox pectoral reliquary cross with niello inlay crucified figure of Christ .The other side decorated with niello inlaid geometric patterns, on its original double chain adorned with charms.
MEASUREMENTS: Cross dimensions in approximately: Height: 6 cm (2 3/8 in). Width: 4.5 cm (1 3/4 in). Overall length with the chains: 49.5 cm (19 1/2 in).
CONDITION: In its original condition showing the age and usage, slightly worn with minute scratches.
WEIGHT: 117 grams (4 1/8 oz).