SOLD Antique Painting Portrait French Marshal Joseph Jacques Cesaire Joffre by H. Rick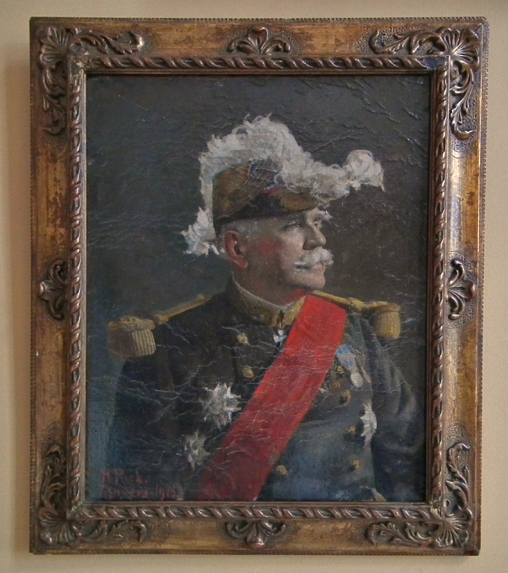 SOLD Authentic Antique, early 20th century, extremely well hand painted, oil on canvas, Portrait of the French Marshal Joseph Jacques Cesaire Joffre (1852-1931), in the identifiable Marshal uniform wearing the Order of the Legion of Honor (Legion d'honneur), Grand cross sash (Grand Croix), and other orders and medals. The painting is signed in the lower left corner, H. Rick. Anvers. 1915.
There are, very few, existing portraits of Joseph Joffre, painted by different artist, however, all of them were painted after famous photography of Joseph Joffre, taken by R.Melcyor, a French photographer of that period of time and published on the post cards. Also, the portrait of Joseph Joffre in the Paris – Musee de L Arme, Painted by Artiste Henri Jacquier, 1907-1975. (Please see the link below) is not painted in 1915 since the painter at this time was 8 years old, but after the photography.
CONDITION: Excellent; no touch-ups, repairs, etc, original, early 20th century, wooden stretching frame.,The canvas of the painting is very dry and stiff, the paint on the painting has age cracks with glossy varnish on the surface. Its original, period of time, frame has some minor chips in the gesso.
However, all these signs of age are leading to the conclusion that the painting was created during the period of time of the WWI, or just shortly after the war, and is possibly the oldest hand painted portrait of the Marshal Joseph Jacques Cesaire Joffre, of course, as was other portraits painted after his famous photography.
MEASUREMENTS: Dimensions with the frame: 51.5 cm x 44 cm (20 1/4 in x 17 1/4 in). Dimensions without the frame: 41 cm x 34 cm (16 1/8 in x 13 3/8 in).
http://commons.wikimedia.org/wiki/File:Joseph_Joffre_R.Melcy_1917.jpg
http://www.revendeurs.rmngp.fr/fr/catalogue/produit/4614-le-general-de-division-joseph-joffre-1852-1931.html
http://www.linternaute.com/histoire/magazine/diaporama/06/musee-armee/guerre-mondiale/1914-1918/8.shtml