SOLD Antique Ottoman Balkan Pistol 18th century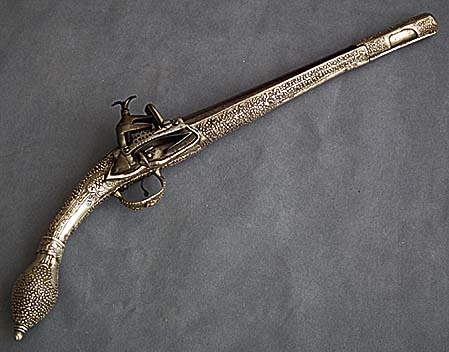 SOLD Antique 18th century Ottoman Balkan Silver miquelet –lock pistol (KUBUR) with a tapering barrel lightly engraved at the breech (rubbed), silver all-metal stock profusely decorated in low relief with flowering foliage, and scrollwork against a punched ground, fore-end sleeve trigger-guard, and false ramrod all en suite.
REFERENCES: An almost identical pistol, which is described as 18th century Ottoman Balkan, is in the collection of the Askeri Museum in Istanbul, Turkey published in the catalogue "Askeri Müze Osmanlı dönemi ateşli silahlar kataloğu", Page 92, No 66. In addition, similar pistols are in the collection of the Tareq Rajab Museum Kuwait published in the book "Firearms of the Islamic World: in the Tared Rajab Museum, Kuwait" by Robert Elgood, Page 94.
Overall length: 51.5 cm (20 1/4 in)
CONDITION: In good condition considering its age with minor wear, showing the usage.