SOLD Antique Naval Dirk Sword Turkish Ottoman Islamic Navy With Arabic Script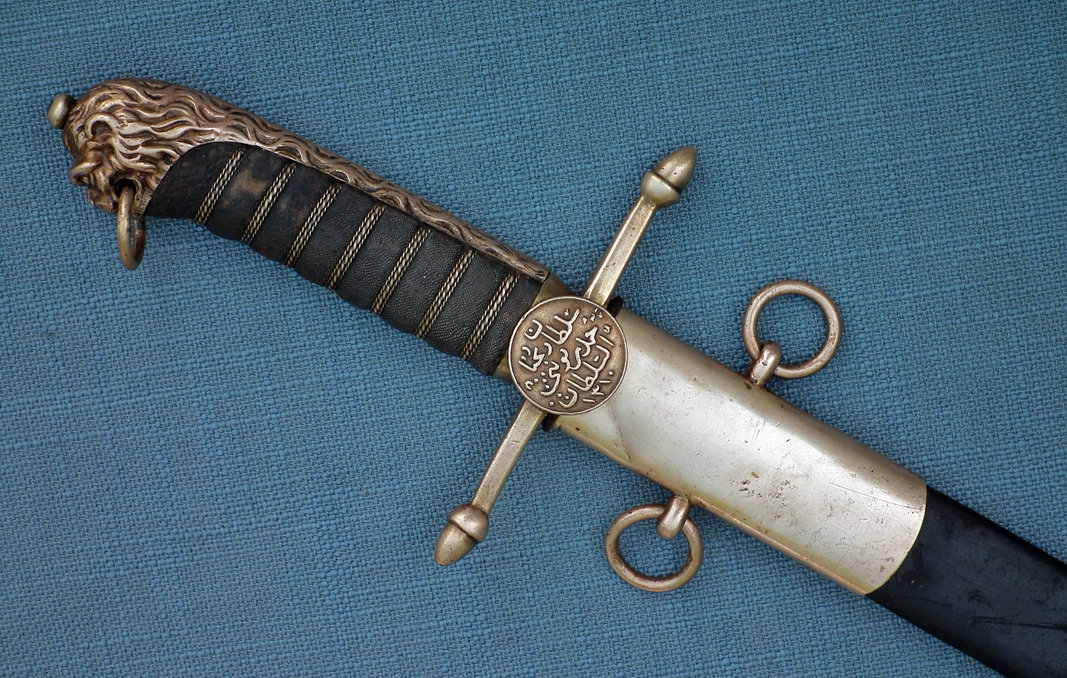 SOLD A Very Rare Antique, late 19th century period time of the Osmanlı Padişahları Abdülhamid II Ulû Sultân Abd ūl-Hāmīd Khan.
Islamic Turkish Ottoman Naval Dirk, custom made for a Turkish Ottoman Naval officer based on the pattern of the Victorian British Royal Navy Dirk, 1879 model.

Details: The dirk features a brass lion head pommel with portepee ring and ornate back strap, shark skin covered wooden grip bound with roped brass wire, crossguard with acorn – shaped terminals, adorned on the centre with a convex, disc shaped, langet, contains script most likely in old Ottoman Turkish, written in Arabic alphabet with the dated 1310 Hijra [1893 A.D.] and written twice in Arabic word Sultan. The plain, sturdy, tapering steel blade is etched at the forte with the name and address of the well known British Victorian retailer of military goods.

HOBSON & SON -1,3, &5.-
LEXINGTON STREET
GOLDEN SQUARE
LONDON.W.

In its original leather scabbard mounted with a brass chape, and locket with two loops for suspension.

Differences between this dirk and the standard pattern British Royal Navy Dirk:

1.The cross guard is straight. The British dirks crossguards is "S" shape, and the oval langet is adorned with the naval anchor and wreath & crown.

2.The brass scabbard fittings, chape and locket, are plain. The British Dirk chape and locket are elaborately shaped and engraved.

CONDITION: This sword is in good condition considering its age, showing its age and usage, blade slightly pitted with scratches from the cleaning, some wear to the shark skin, minor dents to the brass scabbard fittings, Leather scabbard is in good condition except for minor split to the sheaths on the upper part of the scabbard. All of this is an aspect from a used antique sword that is over 120 years old.
MEASUREMENTS:

Overall length with the scabbard: 62.5 cm (24.61 inches).

Overall length without the scabbard: 61.2 cm (24.9 inches).

Length of the blade: 47 cm (18 .05 inches).
Being over 40 years in the antique business, for the first time we were fortunate to acquire such a Rare Turkish Ottoman Islamic Naval Dork.