SOLD Antique Napoleonic Miniature Portrait Empress Josephine 19th c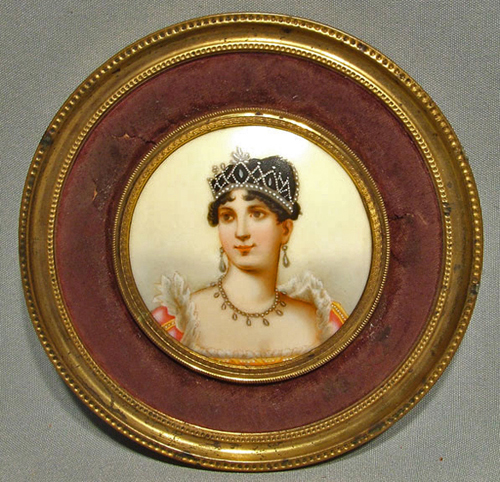 SOLD
An exquisite authentic antique museum quality 19th century miniature portrait of Napoleon's first wife, Empress Josephine Beauharnais, hand painted on a circular convex porcelain plaque. The portrait is hand painted by a fine brush with outstanding details, and beautiful colors. Mounted in its original gilded brass double frame with fabric matte.
CONDITION: This original painting is in very good condition with no restorations, or repairs, except the fabric matte is worn, which is a sign of age that proves that the portrait is a real antique, otherwise it is in excellent condition.
MEASUREMENTS: Diameter with the frame: 15.5 cm (6 1/8 in).
This miniature is dated to the Second Empire circa 1860, in the period time where artists created works of art with First Empire subjects.
Below is a link to a site showing the portrait of Napoleon's wife, Josephine Beauharnais, wearing exactly the same Diadem, Necklace, and Earrings, as this miniature.